Download the Event Budget Template That Pays Off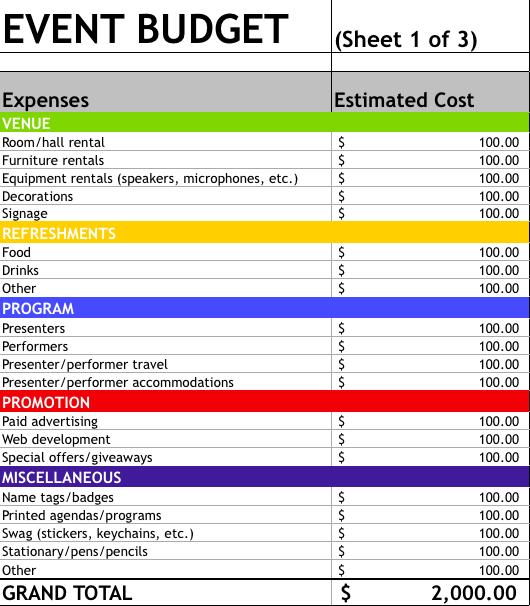 Download the Event Budget Template That Pays Off
Nutting out an event budget is an activity many organisers view with trepidation. Trying to predict how far your pennies will go often feels like an act of "guesstimation"…
How much can you spare for marketing?
What about ad hoc costs on the day?
And will the venue charge an additional rate if you go over predicted attendee numbers?
As with many of the worries that keep us event folk up at night, the simple act of turning the light on can make things one helluva lot clearer – which is where our free Event Budget Template comes in.
This pre-formulated Excel spreadsheet is divided into three worksheets, each to be completed at a different stage of your event planning. It contains easy-to-follow instructions, and has been designed to remove the stress – and guesswork – from your fiscal calculations.
How To Use This Event Budget Template:
The first event budget worksheet is Budget Projected, aka, where you enter estimated costs for budget line items like venue rentals, food and beverage, guest presenters, marketing and miscellaneous event costs. Be sure to consider your entire event from top to bottom! Where possible, we also recommend you enter amounts derived from direct supplier quotes, as plucking a number from your brain will potentially get you into trouble down the line.
Budget Actual is worksheet number two. Here, you repeat the process for worksheet one, inputting the confirmed amount for each line item. This should be the actual costs you will be invoiced for, including GST.
The final worksheet is Budget Comparison, which features a side-by-side comparison of your projected versus actual budget costs. This allows you to quickly and easily see where there are cost discrepancies between what you planned to spend, and what you will be asked to cough up for.
Once your event planning is well underway, and invoices start coming at you left, right and centre, it can be easy to lose sight of the big event budgeting picture. This simple Event Budget Template should help to keep you on track and avoid any nasty surprises.
Grab a copy by entering your details in the form above.