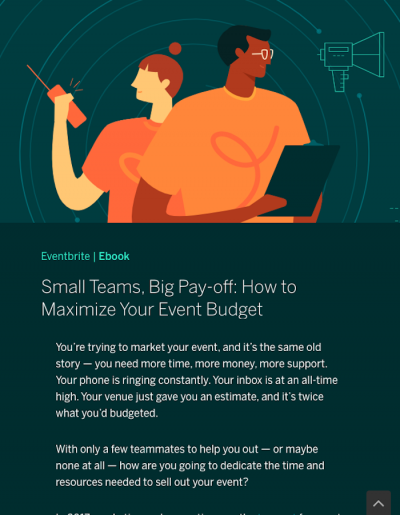 Small Teams, Big Pay-off: How to Maximise Your Event Budget
In 2017, marketing and promotion was the top cost for event creators. That means you need to think strategically about how you spend every minute and every penny. In this guide, you'll learn to overcome the three biggest challenges for small teams marketing their events — and how to maximise your marketing budget, regardless of your team's size.
You're trying to market your event, and it's the same old story — you need more time, more money, more support. Your phone is ringing constantly. Your inbox is at an all-time high. Your venue just gave you an estimate, and it's twice what you'd budgeted.

With only a few teammates to help you out — or maybe none at all — how are you going to dedicate the time and resources needed to sell out your event?

In this guide, you'll learn how to:
Stop wasting valuable hours on repetitive, manual tasks

Invest in the right tools and technology for your event

Free up your time to focus on selling more tickets
Preview
1. Challenge: You Can't Be Everywhere at Once — But You Have to Be
One of the biggest challenges of marketing an event as a small team is, well, your small team. With so much to do, you can't waste a single minute. There are always sponsors you need to win, contracts you need to review, and volunteers you need to train. And you still need to find time for marketing.
In a survey of 1,000 event creators, 45% of respondents said their teams consist of two to five people. Nearly a third (28%) said they're flying solo. Without ruthless prioritisation — and some help — you're going to risk burnout.
2. Challenge: The Clock is Ticking
The occasional late night may be unavoidable, but you'll burn out if you don't find smart ways to manage your time.
On any given day, you have multiple tasks to complete in an impossibly small window of time. The smallest inefficiency can set you back, and can be detrimental to your marketing. Lean into these two ways to more productive — and less stressful — marketing.
3. Challenge: Your Budget isn't Budging
Marketing budgets — especially for fledgling events — are often small. In fact, in a survey of more than 1,000 event creators, 90% said their budget is insufficient. And while you can't eliminate marketing costs from your budget entirely, you can make savvy decisions on where to allocate your spending, and where to offset it.  
Maximise Your Small Team Event Marketing
When you don't have people-power to spare, you need to make the most of your marketing.
And with seemingly infinite tools at your disposal — social media, email marketing, discovery sites, paid ads — it's hard to know where to focus your attention. Save time, money, and stress by investing in the right tools, technologies, and partnerships.