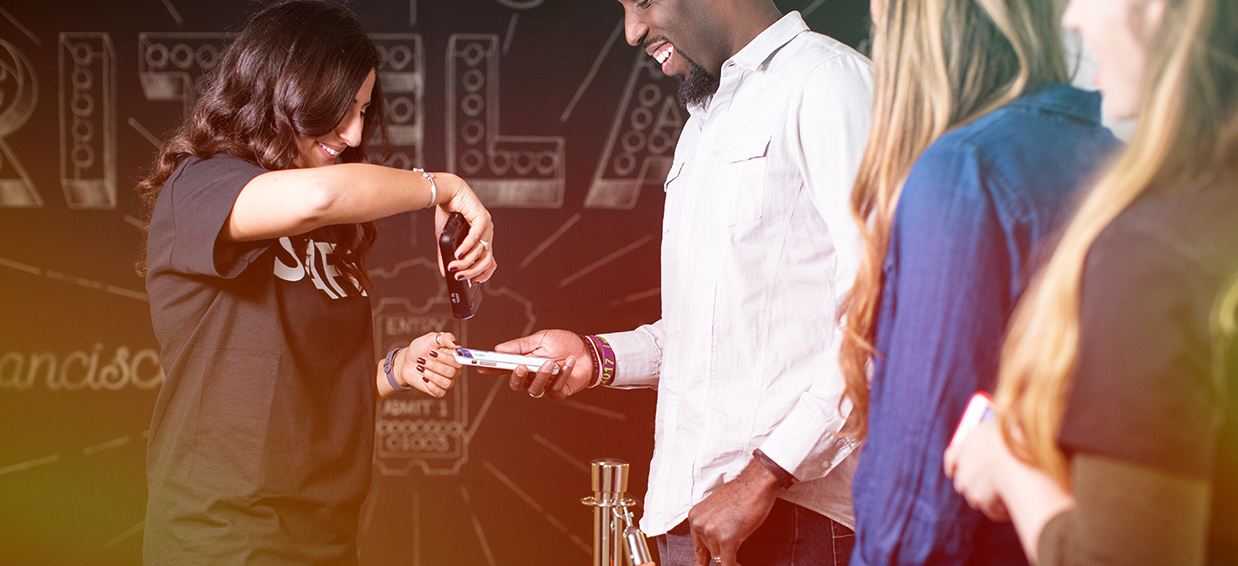 Event Management Apps: The Secret to a Smooth Entry Experience
When attendees arrive at your event, their anticipation is high. But nothing can ruin their experience faster than long lines outside your event.
To get event-goers in the door quickly, you need a better solution than paper registration lists. That's where event management apps come in. Read on to learn how these (often free) apps help you get attendees in the door and provide exceptional customer service.
[Tweet "Don't let a poor entry experience ruin your event's reputation."]
Benefit #1: Get attendees in the door smoothly
Printed attendee lists and spreadsheets force staff to manually search for ticket holders — who often have to point out their names. The resulting long lines can delay your start time and damage your credibility.
Event management apps, on the other hand, make your event appear more professional by letting you streamline the entry process. Eventbrite's Organiser app, for example, can scan approximately 1,000 tickets per hour.
In addition to streamlining your event entry process, these apps are easy to use and flexible to your needs. Most can be installed for free on any iOS or Android device, meaning you can add more entry lanes without purchasing equipment.
Benefit #2: Streamline your on-site customer service
Event management apps are also the ultimate customer service tool. If event-goers misplace their ticket or registration, you can confidently help them retrieve it for two reasons.
First, because entry management apps are connected to the internet, your attendee list is always up-to-date. And since real-time attendance and sales data are synced across devices, you can even sell tickets, issue refunds, and make upgrades at the door without stressing if you're over capacity.
Then, when it comes to security and fraud, entry management apps leave little room for error. Printed receipts from an e-commerce website, on the other hand, often don't have a unique identifier like a barcode, making it difficult to verify their authenticity. And while you can look up attendees on a printed list or spreadsheet, there's no guarantee their version has the latest, up-to-date information on ticket buyers.
Simplify your event planning process
A smooth entry process is just one way you can improve your attendees' experience. Find out how Eventbrite can simplify your planning process and help you spend more time focused on what matters most: the success of your event.