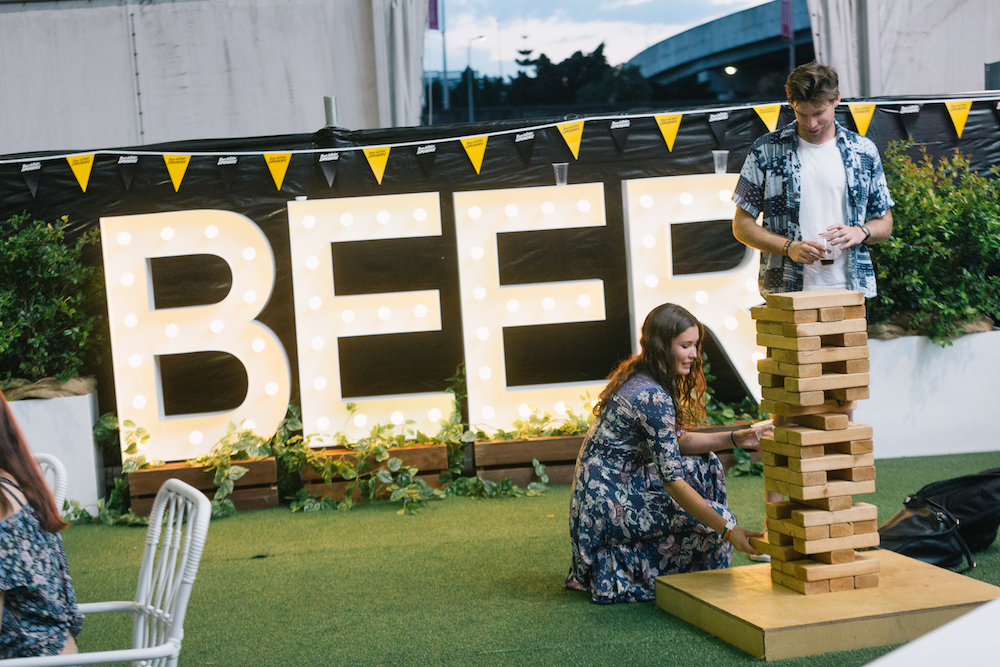 30 Creative Event Signage Ideas for Branding and Sponsorship
Is your event signage working toward your event goals, or against them? What about sponsorship ROI? If you've limited yourself to basic signs pointing out queues and bathrooms, you could be missing out on opportunities to promote your brand and even drive results for sponsors.
Event signage is a must-have to facilitate a smooth attendee experience, but if done creatively, can also inspire your attendees to take action — such as engaging with a sponsor or uploading a photo to social media.
[Tweet "30 creative event signage ideas to wow attendees with your brand"]
So how can you wow your fans with event signage that's not just super clear, but also memorable? Here are 30 creative event signage ideas to up the ante on your branding, and help your sponsors get noticed.
Barriers:

Barriers are used to create an entry chute that funnels fans smoothly into your check-in point. They're also a prominent place to put directional messaging, as well as sponsor and branding information. Have some fun with these signs can also make waiting in lines more interesting for attendees.

Stair wraps:

Stairs can be used in creative ways at your event and direct attendees to where they need to go. This could achieved by wrapping each individual stair creating a message running up or down the stairs, or by wrapping a large staircase to create one cohesive image that comes together when viewed from the bottom.

Graffiti walls:

One unique way to display information and branding is with a graffiti wall. To connect with your community, partner with a local artist to create the wall live at your event. It doesn't even need to stay on the wall, as digital graffiti walls are now available for event hire (pictured below).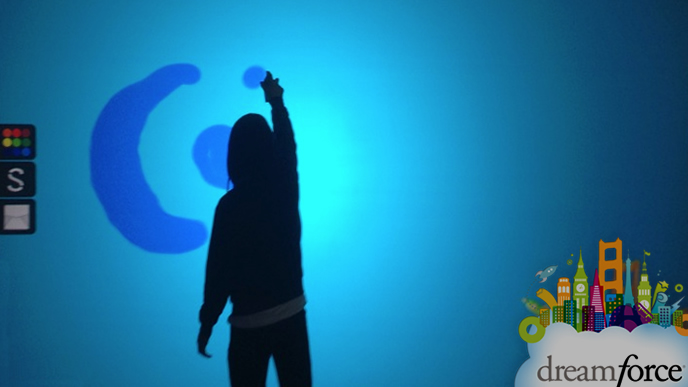 Projections:

If you've ever been to Auckland's Bright Nights display, you'll know that light projections are hot right now and always pull a crowd. Light projections don't have to be complicated to be impressive. Projected messages, animations or branding can instantly liven up a dull or dark space.
Media wall:

Similar to a light projection, but instead of art and colour, project live feeds for news or social media updates. This can be interactive, with guests seeing their own messages appear on the wall.
Balloons:

Got a simple message you need to jazz up? Try foil balloon lettering.

Balloon displays

can be seen from a distance and look great in photos.
Oversized text:

Say it loud and clear with oversized text. This can be great for event or brand names and are popular backdrops for large festivals, such as the

Rhythm & Vines

'Hollywood sign' style logo (pictured below).
Mirrors and windows:

Large windows or mirrors can be used for event signage at a very low cost. They are great surfaces for using printed decals, or for a budget option, simply write your message in liquid chalk.
Bathrooms:

From decals on mirrors to signage on the back of stall doors, bathrooms can be a great way to promote messages to a captive audience.

Light-filled letters or lightboxes:

Put your name in lights! Light-up lettering can make a simple statement, or illuminate a branded message with a lightbox backdrop.
Signposts:

If there's lots to see and do at your event, consider offering a sign posts to one of your sponsors as a branding opportunity. The signs can be used to point attendees to event offerings, as well as the sponsor's own activation or display.
Floor signage:

Floorspace is an often under-utilised space for signage. For indoor events, look at removable floor decals. For outdoor events, you can use chalk or spray paint and stencils to offer directions or highlight brand messages.
Floating signs:

If your event space has a pool or water feature — put it to work! Champagne brand Veuve Clicquot used a floating hashtag to encourage social sharing at VC Carnaval (pictured below).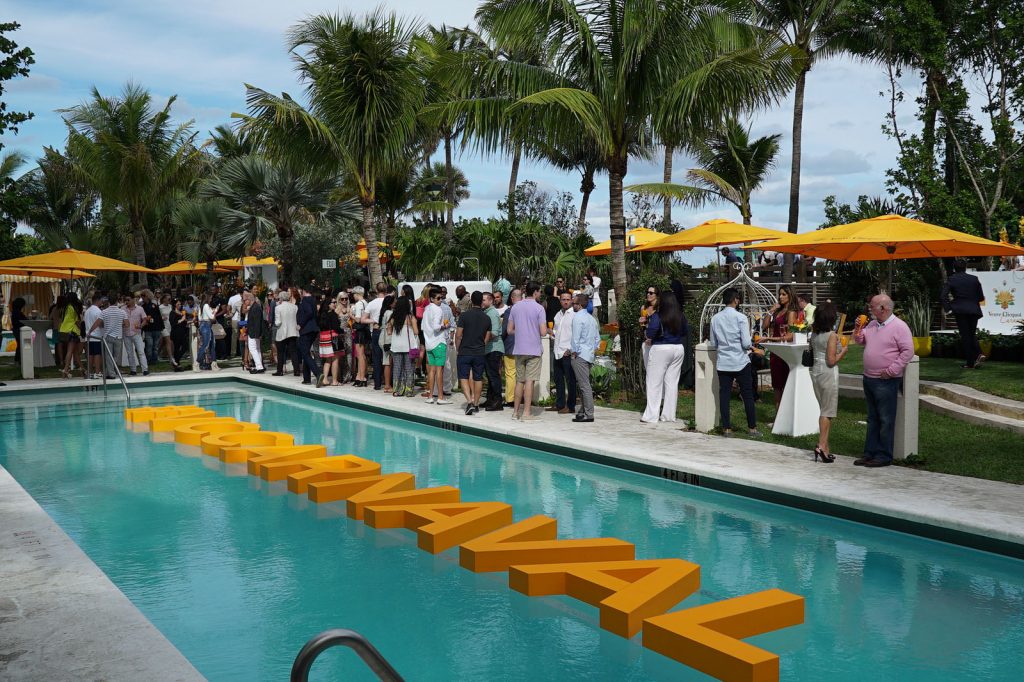 Pillar wraps:

If your event venue has large concrete pillars, liven them up with colourful wraps.
Vehicle wrap:

Wrapped vehicles can be used to showcase a brand both at your event and on the road. Consider using your event details (such as logo, website or even date and locations) on branded vehicles. Pinot Palooza is a wine event that goes "on tour", so they use a branded vehicle (pictured below) when visiting wine regions and film road trips for social media content.
https://www.instagram.com/p/BcZAHxLnrON/
Neon:

Modern

neon signage has become an art form in itself, with everything from logos, pictures and quotes coming to life in bright and fun colours.
Floral arrangement:

Liven up a sign (literally!) with flowers, like jewellery brand 'Grew & Co' at the One Fine Day wedding expo (pictured below).
Floral wall:

To really make an impact or liven up an entire expo display, look at creating an entire floral feature wall. They look stunning and make ideal backdrops for photos and Instagram selfies.
Natural landscape

: If your venue is outdoors, instead of purchasing flowers you can use the landscape to complement your signage. For instance, nestle a sign within the plants, or use trees to reduce unattractive poles.
Charging stations:

There's a good chance everyone at your event has a smartphone and if you want them snapping plenty of pictures and video, consider creating a charging station. The benefit for your brand or sponsors? You'll have a captive audience while they wait to power up, so use the space to sell your message or charge a premium for sponsorship.
Wristbands:

Wristbands are a great way to get a message to every attendee. They can showcase a simple printed message or logo, or you could take inspiration from Heineken, who created

branded drink-card wristbands

as part of an event marketing campaign (pictured below).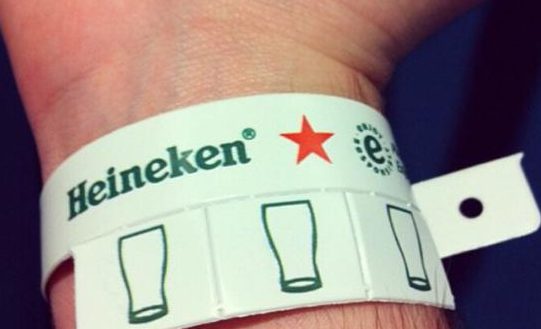 Printed shade cloth

: For outdoor events, protect guests from the sun with branded shade cloth, or use to brighten up chain link fencing.
Drink cups:

Cups are another easy way to get your event or sponsor's brand into the hands of every attendee. The Wellness Festival thinks outside the box by offering branded drinking coconuts to highlight their Instagram handle, @colourandcoconuts, in a memorable way (pictured below).
https://www.instagram.com/p/BLdROH6AXVM/
Chalkboards:

Easy to create and update, chalkboards can be an inexpensive way to place signs through your event.
Scrabble art:

Use oversized scrabble tiles to spell out your message.
Furniture

: Tabletops and printed chairs offer unusual, but highly visible, spaces to display your event signage and brand. Consider a blanket with your event name or branded pillows to add more information.
Staff uniforms:

Your event staff can also be used as roaming message boards! Consider using t-shirts to include your social media handles, or suggest asking for directions to a highlight event attraction.
Event badges:

Signage that every attendee will take with them, event badges can be cleverly branded to provide tons of information. From branding on the lanyard to a QR code that encourages event app downloads, consider how your messaging can be applied outside of the name tag information.
Screens:

Putting your branding on a screen is ideal for night events and large festivals, ensuring it can be seen from any vantage point, like above a concert stage (pictured below).
https://www.instagram.com/p/BcWdS4fh1zo/
Marquees and tents:

If you or your sponsors are using white marquees or tents, use the opportunity to use them as a blank canvas to promote messages to your attendees.
Secure more sponsors
Now that you've got some ideas on how to promote your event brand and sponsors, it's time to secure more partnerships. Find out how with this handy tip sheet, 7 Steps to Winning Event Sponsorship.