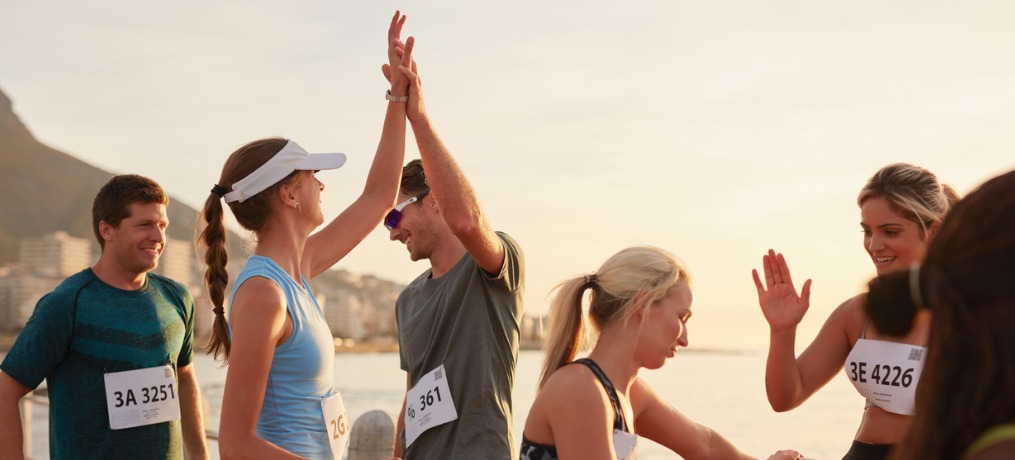 5 Tips for Selling Out Your First (or Hundredth) Run or Walk Event
Getting people outside and on their feet is what gets you up in the morning. But you know that's not how everyone feels about some good old-fashioned exercise.
So how do you get people to join you and sign up for your running or walking event? You need to appeal to people who aren't seasoned enthusiasts, or else your race meant for hundreds will be a casual stroll for ten.
Check out these tips for some easy ways to sell out your run or walk event.
1. Use social media to snag the last-minute participant
Often, people genuinely are interested in your event when they see it on Facebook, but they get lost somewhere in the sales process. This is why ticket sales are often recognised in a 'U' shape, with large spikes at the start and end of on-sale. If they don't buy upfront, people often leave it to the last minute. Take advantage of this trend and inspire FOMO (fear of missing out) with these last-minute post ideas:
Twitter

: Post a short tweet that gets right to the point:
There are only 25 bibs left for our charity walk! Get yours now to support our local fire department [link]
Instagram

: Post a photo of the remaining bibs with a similar tagline as the Twitter post, but direct them to a

"Get Tickets" button

on your profile. If you don't use bibs, post a photo of your team with a tagline about how excited they are that there are only "X spots left!"  

Instagram Stories

: Post a short clip of a team member showing off the bibs or talking about the event filling up. Highlight some visual behind-the-scenes work or even a high-visibility participant, such as a local celebrity or local member.

Facebook

: Add a few more sentences of detail to the copy you used on Twitter, as well as a photo of the remaining bibs, your influential participant, or something else unique to your run or walk event.
Snag locals and weekenders looking for their next great run or walk event experience.
2. Reach out to local groups with a focus on activity or activism
When mapping out the marketing for your run or walk event, look to similar organisations for a built-in audience.
Get in touch with your local gyms to post flyers, or see if they might send an email blast or social post. Contact local schools and universities (consider their cross-country teams or other sports during pre-season). Offer them something in return, like a small advertisement in your emails or a thank-you in a post-event recap.
Local nonprofit groups or student clubs can also be a good resource. Here are some easy ways to get them involved:
Have volunteers distribute water along the route or help with check-in

Let sponsors hand out or sell treats at the route end

Sponsor clubs as team participants in exchange for some advertising within their organisation
3. Tap into what makes your city or town unique
Whether people are running enthusiasts or new to the sport, destination races can be a big attraction. But even if your run or walk event doesn't take place in a big city, you can still use your location to entice registrations.
Poll your team for secret spots or little-known businesses and include them on your route, advertising your event as the "Best Kept Secrets" of your town.
If it's too close to event day to make changes to your route, here are some other ideas to take advantage of your city's best:
Get in touch with local businesses to see if they want to participate in your event, either as merchandise stands or to offer store discounts to participants

Reach out to local musicians and offer them places to perform at rest stops along the route

Curate works from local artists to auction off at rest stops or past the finish line of your route

Make a treasure hunt for participants to fill out along your route, especially if your run or walk event is focused on families

Check with your local historian or library and integrate your findings into your marketing.
Once you've found what makes your town unique, here's an example of how to include it in a promotional email:
With the most live music venues per capita than any other city in the  world, no wonder Melbourne has inspired some of music's greatest. Relive AC/DC 's iconic 'Long Way To The Top' flimclip as you walk along Swanston Street and then straight down famed AC/DC lane, past the home of rock'n'roll  — Cherry Bar. Register now to be a part of this unique Melbourne race!
4. Highlight the sustainability of your event
Just 11% of event creators say sustainability will have a big impact in 2019, but 75% of consumers take corporate sustainability responsibility into account when making a purchase.
Make sure potential participants know you are on the pulse of their concerns by including a focus on sustainability in your marketing.
You can:
Make a Facebook post with a list of the actions your team is taking to keep your event sustainable (using washable chalk or flour markings, providing only compostable cups, or donating extra supplies to local causes)

Have participants pledge to use reusable water bottles and not litter your course

Partner up with a local environmental group and let walkers and runners raise funds for them

Reach out to other events so that you can reuse supplies from their events
5. Make your run or walk event accessible to all
Naturally, people will assume that a run or walk event requires some physical abilities. This can discourage differently-abled people, the elderly, or those with young children from participating.
Make it clear on your website and in your social posts that everyone is welcome at your event. For example, you can have an early end marker for people with young children, so that kids can run across their own finish line. Provide light drinks or snacks at the kids finish line, some fun activities, or, if it works with your route, have the endpoint be at a local playground. With some innovation, early end markers can feel celebratory, not conciliatory.
Regardless of the length of your route, ensure that there are resting spots for participants along the route. These stops should have fun, distinct names on the route map, so that people can easily coordinate meeting up. Make sure there is clear signage around the stops as well.
Get your run or walk event out into the world
Ready to get your event off to a running start? Sign in or sign up to Eventbrite to start working on your next great run or walk event.