Immigration changes and the future for Employers & Recruiters
Hear from INZ, industry experts on current business challenges, upcoming immigration changes and the future for employers & recruiters.
About this event
We have plunged into a new world since the onset of the pandemic. In addition, the immigration landscape in New Zealand is in the midst of rapid transformation – one that places employers and recruiters at the heart of immigration processes. Are you ready to navigate these unparalleled changes that include a new mandatory employer accreditation system, a new temporary work visa and sector specific immigration settings?
Aims Global Immigration & Education Services, in association with RCSA (Recruitment, Consulting & Staffing Association of Australia & NZ) , invite you to join us for a panel discussion on "Immigration changes and the future for Employers & Recruiters".
This is a rare opportunity for you to network with and hear directly from key representatives from Immigration New Zealand. They will be joined on the panel by industry experts from RCSA, Auckland Business Chamber and Aims Global.
Hear from subject matter experts about how the upcoming changes will affect recruiting, hiring and supporting a migrant workforce. Whether you hire and support one migrant employee or hundreds, Immigration New Zealand's impending changes will undoubtedly influence your recruitment and employment practices.
During this event, you will hear about:
Upcoming immigration changes and its overall impact on NZ businesses
Sector and Region specific labour needs
Viability of the future migrant workforce
Long term impact on recruitment trends and methods
Employment support needs for your migrant workforce of the future
Economic impact on local businesses
Practical advice to prepare for the challenges ahead
Event Agenda:
8:00 Arrival and registrations
8:30 Panel Discussion
9:30 Networking
Note: A light breakfast will be served prior to the panel discussion.
All questions for the panellists need to submitted beforehand. Questions should be sent to events@aimsglobal.co.nz by 17th May.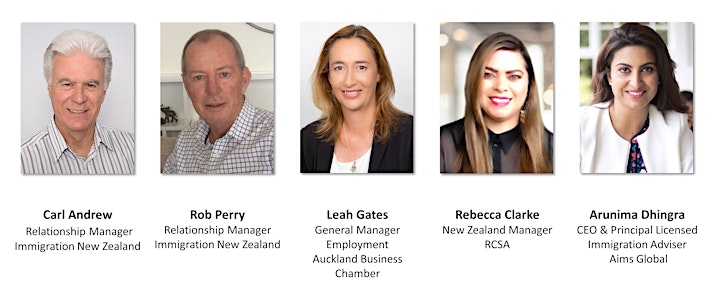 Carl Andrews, Relationship Manager, Immigration New Zealand
Carl is currently one of three Auckland based Immigration Relationship Managers working with Employers, Recruiters and other business organisations throughout the Auckland and Waikato Regions.
His focus is on assisting employers who have skill shortages, understand Immigration policy and process options, and to help them connect with skilled migrants in on and off-shore markets.
Carl's portfolios include, but are not limited to, Engineering, Marine, Information Technology and Creative Sectors.
Prior to joining the Relationship Manager team, Carl managed the Auckland Central and Manukau branches and comes with over 30 years' experience within Immigration.
Rob Perry, Relationship Manager, Immigration New Zealand
Rob has been the Relationship Manager (LIA/Immigration Lawyer sector) since 2018 and is based in Auckland.
Prior to joining Immigration New Zealand, Rob was in Financial Services (Kiwi Bank/National Bank of New Zealand). Rob works alongside Josh Kennedy who is based in Wellington managing the sector, gaining feedback from the sector, attending seminars, designing and promoting webinars for the sector and ensuring communication with the sector is timely and helpful.
Leah Gates, General Manager Employment, Auckland Business Chamber
Leah leads the Auckland Business Chamber's highly successful Employment Solutions division since its establishment in 2001. She is deeply committed to diversity and development for all people to participate in employment.
Through her educator expertise, business acumen, creativity and leadership, this division now supports over 1000 people a year into employment. Her team of 30 passionate trainers, mentors, recruiters oversee a stable of Employment Programmes delivered in partnership with government. These services incorporate work readiness training, skills development, employment brokerage, pre and post mentoring support and transitioning to further vocational education.
Leah joined the Chamber in 2001 with a background in small business ownership (ICT Education) as well as international trade and shipping.
Rebecca Clarke, New Zealand Manager, RCSA
Rebecca is proud to represent RCSA (Recruitment Consulting & Staffing Association of Aotearoa and Australia), the peak body for recruitment and staffing, as NZ Manager.
Rebecca joined the recruitment & staffing industry in 2001 and held a variety of recruitment, sales, HR and leadership roles. As NZ Manager of RCSA, she is a conduit and champion for RCSA member voices across Aotearoa. She works closely with the wider RCSA team of specialists to support and empower their members to lead in the world of work through promoting the recruitment profession, enabling better business, providing networking and celebration opportunities, growing the next generation of talent, fostering pathways to professionalism. RCSA sets the benchmark for professionalism through standard setting, education, research and business advisory support to its member firms and accredited professionals.
Arunima Dhingra, CEO & Principal Licensed Immigration Adviser #200900407, Aims Global
Arunima Dhingra is a long-standing licensed immigration adviser in New Zealand. She is the Founder and Director of Aims Global and has been providing immigration advice and support to NZ businesses and migrants for over 15 years. She was a finalist at the prestigious NZAMI Immigration Awards in 2015, and won the awards in 2017 - Immigration Adviser/Lawyer of the Year Award and Community Outreach Award.
Arunima has been serving as a Board Director for New Zealand Association of Migration and Investment (NZAMI), NZ's largest association of immigration advisers and lawyers, for the past 3 years and was chairing their Policy Committee for 2 years.
The Recruitment, Consulting and Staffing Association Australia & New Zealand (RCSA) is the peak body for the recruitment and staffing industry in Australia and New Zealand representing over 3,000 Corporate and Individual Members.
Aims Global Immigration & Education Services is all about a one-stop solution for all your immigration and international education needs. Our services range from assisting with admissions and advising on a range of visas, to arriving in New Zealand and finally settling here.
Attending our event
If you are unwell or have been around anyone that has been unwell, please do not attend the event. Kindly ensure you abide by the health and safety guidelines of the venue. You must check in on arrival, so we have an accurate record of attendance.
Alert Level Changes
If Auckland's alert level changes to level 3 or above, this event will be moved online and you will get a 50% refund from the ticket. An email with revised details and the link to join the online event will be sent to you at the time.
Organiser of Immigration changes and the future for Employers & Recruiters
Aims Global Immigration & Education Services – Providing professional immigration advice and support to New Zealand businesses and migrants for over 15 years.
Our experience, diligence and the personal approach we take working for every client is what makes Aims Global stand out.
http://event.aimsglobal.co.nz/aims-global-about-us