2 | Drought and the changing climate: farm profits and community resilience
Sales Have Ended
Registrations are closed
Kia ora, Thank you for you interest in this event, the event has now passed. If you would like access to the recording of the webinar, please contact the event coordinator: Nicky Smith - n.smith@gns.cri.nz
Sales Have Ended
Registrations are closed
Kia ora, Thank you for you interest in this event, the event has now passed. If you would like access to the recording of the webinar, please contact the event coordinator: Nicky Smith - n.smith@gns.cri.nz
Understanding drought implications, who is at risk and how communities will be affected.
About this event
Over the past few years, the Deep South Challenge, Resilience Challenge and Our Land and Water National Science Challenges, along with several other NZ science programmes, have funded research projects that focus on drought and its impacts.
In this webinar, "Drought and the changing climate: farm profits and community resilience" researchers look at the social, economic and cultural impacts of drought in Aotearoa New Zealand.
The concept of 'resilience' has recently gained traction in a range of contexts. Its various interpretations and framings are now used to examine a variety of issues, particularly relating to the human dimensions of global change.
In Aotearoa New Zealand, resilience concepts are used by researchers, policy-makers and practitioners, to prepare for, recover from, and better understand the impacts of climate variability and extremes. For the most part, resilience focuses on change: it includes the ability of a system to maintain its current state despite disturbances, its ability to adapt, and to transform. Resilience covers both stability and change, and often involves identifying what enables farms, individuals or industries to cope – or not – with the impact of a shock.
Drawing on recent examples from both climate change adaptation and disaster risk management, we begin by briefly reviewing and synthesising the application of resilience in a rural context. We suggest that climate monitoring and improved forecasting for drought is needed, however, better understanding the "human dimensions" of its impacts and implications can help establish complex causal pathways and provide insight into climate-attributable livelihood impacts.
Understanding who is at risk and how communities will be affected can help target persistent vulnerabilities in rural New Zealand and elsewhere.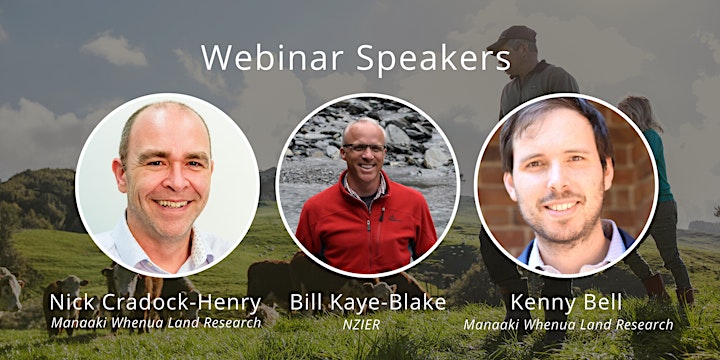 Webinar Speakers
Nick Cradock-Henry Dr Nick Cradock-Henry is Senior Scientist, with Manaaki Whenua - Landcare Research, where he leads work on climate change impacts and implications, adaptation and resilience to natural hazards. Nick co-leads the Resilience Practice programme in the Resilience to Nature's Challenges National Science Challenge, and manages multiple projects focusing on adaptation and resilience in the primary industries and rural regions.
Bill Kaye-Blake Bill advises government and commercial entities by providing an independent, analytical perspective. Much of his work is in the agri-food sector, including innovation and natural resource impacts. He uses a variety of quantitative and discursive approaches from the applied behavioural sciences.
Kenny Bell Kenny is an Economist at Manaaki Whenua who specialises in using statistical methods to understand how weather affects society. His current research topics include valuing environmental outcomes in the far future, valuing natural capital using statistical methods, and understanding how measurement error might affect statistical estimates of the effect of weather on agriculture.
This webinar is part of: Growing Kai Under Increasing Dry, a rolling symposium on drought, climate change and primary sector resilience
What is a rolling symposium? Three short background webinars, bringing you the latest in climate projections, drought resilience research and land-use science, culminating in an all-day event to generate evidence-based conversation around future drought policy.
Find more about the other events in our rolling symposium: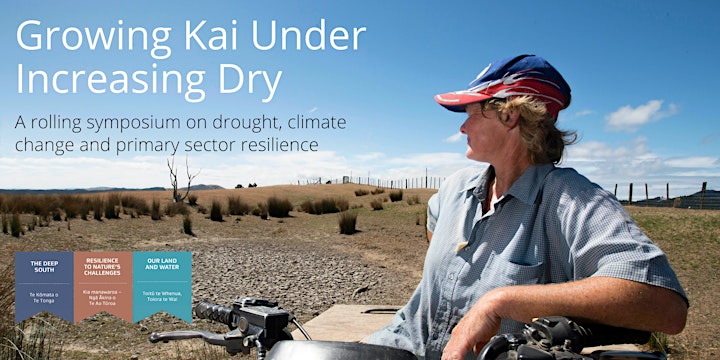 Organiser of 2 | Drought and the changing climate: farm profits and community resilience