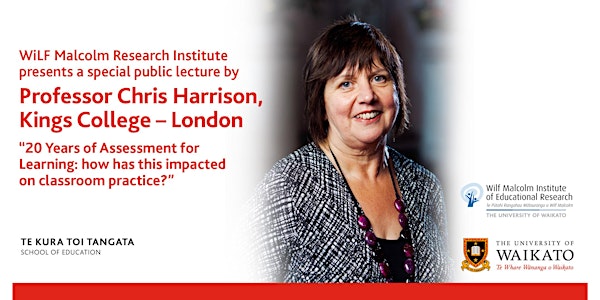 20 Years of Assessment for Learning: what is impact on the classroom ?
Location
Gallagher Academy of Performing Arts
Knighton Road
Hamilton, Waikato 3216
New Zealand
Assessment for Learning initiated in the1990s impacted both classroom assessment and pedagogy - how has this played out in NZ classrooms.
About this event
Join special guest lecturer Professor Chris Harrison as she examines the impact of the Assessment for Learning movement started in the mid to late 1990s on classrooms both here and internationally. Chris will examine its impact on both classroom assessment and pedagogy, reflect on the journey that Assessment for Learning has taken and examine reasons why sometimes formative practice strengthens and sometimes gets limited by national or local contexts.
This presentation will provide ample opportunity for educators in all areas to reflect on their own practice, consider research-informed practice and learn the importance of practice-based evidence from a professional learning perspective..
This lecture is free, open to the public and held at the Gallagher Academy of Performing Arts. Drinks and nibbles are provided from 5:15pm, prior to the lecture beginning at 5:45pm.
Speaker profile:
Professor Chris Harrison is a researcher in assessment and teacher professional learning at King's College London. Chris is known, both nationally and internationally, for the ways she can relate research to practice, made possible through extensive experience of teacher education from both a research and teaching perspective.
Chris started her professional life as a science teacher in London schools for 13 years. On joining King's, she began her PhD focusing on classroom assessment, supervised by Professor Paul Black. Following the publication of Inside the Black Box (Black & Wiliam, 1998), she worked on the innovative KMOFAP study which looked at assessment for learning in science, English and mathematics classrooms.
Several studies and consultancies developed from this work and the collaborative action research approach that she developed through these projects has informed many national and international projects. Chris's recent work has investigated STEM inquiry learning, pre-service teachers assessment capabilities and the connection between professional learning and enactment of practice.
For more information about this event contact Aandrea Murray - eduevents@waikato.ac.nz