The NZ Mountain Film Festival 2020 tour is coming to Hamilton - watch some of the finest adventure films from around NZ & the world!
About this event
The 2020 NZ Mountain Film Festival 'Best of' tour features the best films from the film festival in Wanaka. We're also adding in a short NZ bike film by locals Jack & Isobel Ewing titled Doma.
The festival theme, 'A Celebration of Adventurous Sports and Lifestyles', aims to showcase films from the high-octane sports such as skiing, climbing, kayaking and mountain biking. It also features increasingly topical environmental and mountain culture films to inform and entertain.
This is a fundraising event brought to you by Perry Outdoor Education Trust and Lodge Real Estate.
Each ticket includes complimentary drink, popcorn and some great prizes up for grabs.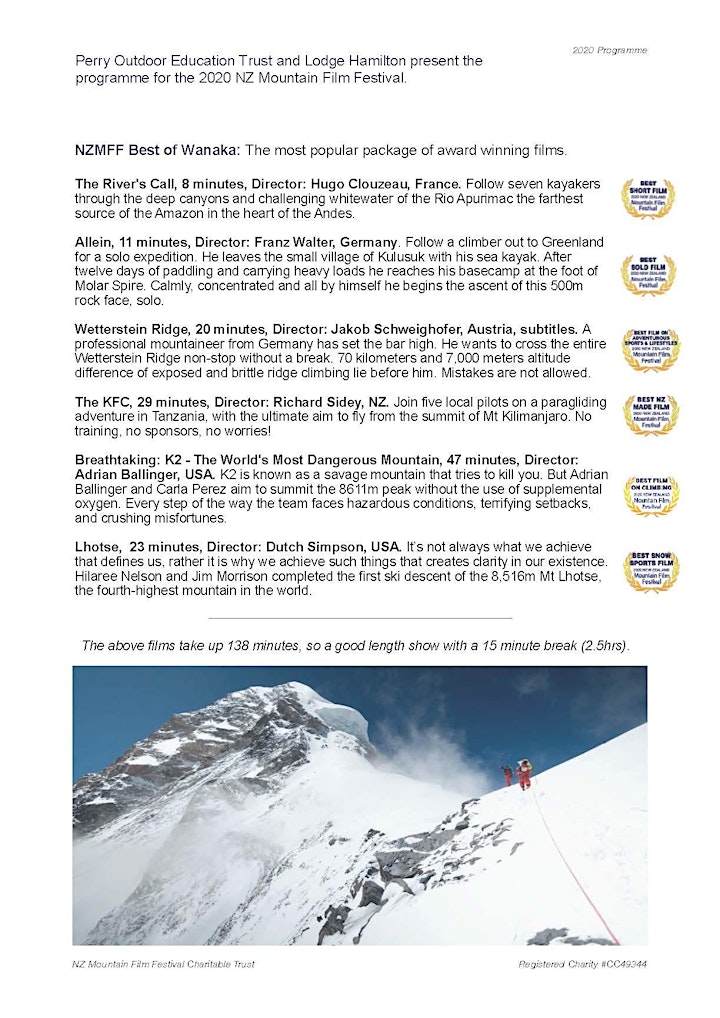 Organiser of 2020 NZ Mountain Film Festival Tour
A Waikato charitable trust equipping low decile secondary schools to develop young people through outdoor experiences.  Each year 1000's of young Waikato secondary students experience amazing natural environments, are challenged in a safe way, and learn to value and protect the places where they play.  POET provides experienced outdoor educators who work alongside teachers, building each school's capability to deliver outdoor experiences. Experiences take place close to home, are low cost and build connections between students and their local environments and communities.