2021 Journal of Hospitality & Tourism Management Online Paper Hackathon
The 2021 JHTM Paper Hackathon aims to support scholars to publish their research in JHTM as well as to celebrate the successes of the JHTM.
About this event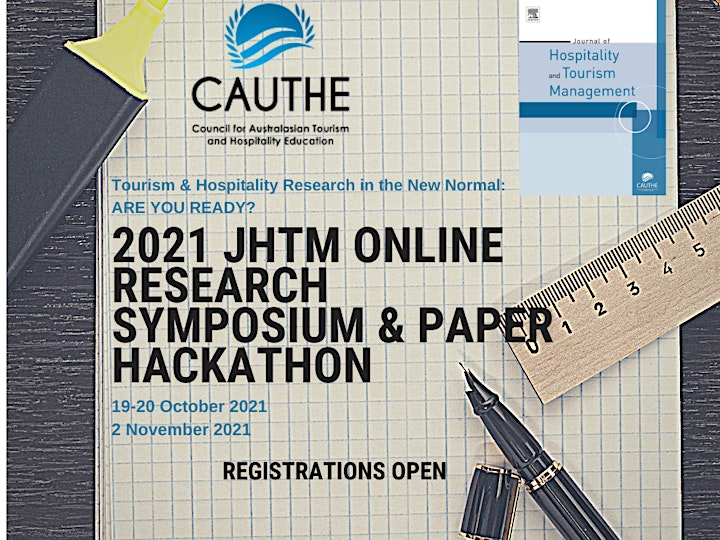 Registration deadline: Extended to 10th October 2021
Entrants to the 2021 JHTM Paper Hackathon will have the opportunity to meet, mix and match with mentors and other participants to form research teams. The research teams will then have 2 weeks (until the 2nd of November) to work on a study/paper proposal (paper-a-thon). Teams will have to organize their own times, tools and platforms to conduct their (virtual) team-working and collaboration. The 2021 JHTM Paper Hackathon will provide one mentor per team to help, guide and support the team towards its research goal. During the Paper Hackathon, teams will work under the mentorship of prominent tourism scholars and they will receive constructive and valuable feedback for their research proposals. Team members and mentors would need to work out themselves when and how to meet within reasonable expectations for each party. Teams will be required to pitch their research paper idea on the 2nd of November 2021 to an evaluation panel consisting the senior Editorial Team of the JHTM. All teams will receive constructive and valuable feedback from the evaluation panel. Teams with high potentials will be invited to submit their completed manuscripts for a fast-tracked review process and a possible publication at the JHTM (within 2022).
The JHTM Paper Hackathon is a great opportunity to:
• Enhance your research and publication skills and capabilities through peer-learning and mentorship
• Foster new and/or enrich existing collaborations by networking and collaborate with other researchers
• Achieve a paper publication by sharing work with others
• Promote your skills and knowledge to the tourism community
• Develop and enhance your self-confidence and skills in working with others and debating your research work to a panel of experts
• Meet journal editors and other editorial board members and learn more about the evaluation and review process of manuscripts
How to submit your participation in the JHTM Paper Hackathon
To participate in the 2021 JHTM Paper Hackathon submit a 1-2 pages proposal describing what you can bring to the hackathon, for example:
data sets, access to key informants, methodological specialty and knowledge, theoretical or domain expertise, innovative perspectives, domain expertise, writing/editing skills story-telling skills, data analytics skills etc.
Each proposal should come from an individual describing that individual's unique skills and contributions. Research teams are also welcomed to apply; teams should submit a single application that will include the names and profiles of each team member. Individuals/teams who bring data sets need to clarify their rights to the data sets and certify that they have the rights to use the data for a new research paper.
Note that the paper-a-thon is NOT a paper development workshop where you can work on papers that you already have. It is about creating something new, with new collaborators, and new ideas. Please do NOT submit completed papers.
To register your participation, please complete this registration form
If you register a whole team, please add the names of all team members in the registration form (one registration form per team)
General Programme
The start of the Paper Hackathon will be announced on the19th of October during the 2021 Online JHTM Research Symposium. During this day, participants will have the opportunity to meet and mix with other participants of the Paper Hackathon; teams will also be introduced to their mentors. Participants will be provided access to attend the online research workshops during the 2021 Online JHTM Research Symposium if they wish.
Teams will be allowed two weeks to work on their research proposal. Teams will have to present their research proposals to an evaluation panel on the 2nd of November 2021 during an online pitch event. The event will be open to other tourism scholars who can also participate and contribute to the presentation discussions. This is also a great opportunity to promote your research skills and ideas to the international tourism community, but also to benefit from peer feedback.
A detailed program is published at the event website provided below:
https://cauthe.org/2021-jhtm-paper-hackathon/
Organiser of 2021 Journal of Hospitality & Tourism Management Online Paper Hackathon