2021 Journal of Hospitality & Tourism Management Online Research Symposium
Tourism & Hospitality Research in the New Normal: ARE YOU READY?
About this event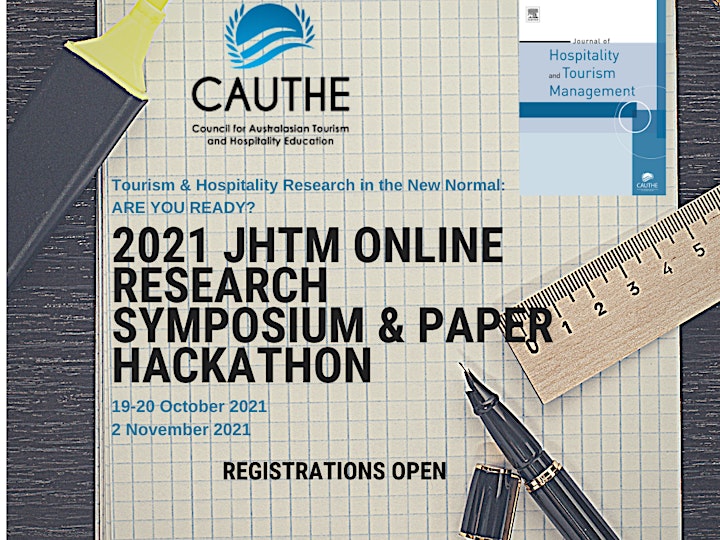 Registration deadline: Extended to 10th October 2021
The 2021 JHTM Research Symposium brings together editors, researchers and industry professionals to share their expertise, network, foster conversations between researchers and the industry, with the aim to advance research in the field of tourism, hospitality and events
Embracing its title "Tourism & Hospitality Research in the New Normal: ARE YOU READY?", the programme of the 2021 JHTM Research Symposium features various interactive, edutaining, thought stimulating but also provoking sessions that enable us to: develop and challenge our research skills and mindsets; and get us more prepared to address the research challenges and exploit the opportunities arising in the post COVID-19 period.
General Programme
- Two eminent keynote speakers, one well-established scholar and one worldwide tourism professional expert, sharing their knowledge on their specific area of expertise.
- Two discussion panels elaborating on contemporary issues in research and publications:
o A discussion panel bringing together editors of top ranked journals to discuss "What is and how to judge research originality: reflections and tips from the editors' mind"
o A discussion panel on "The new normal of tourism research: opportunities and challenges" featuring distinguished researchers and industry professionals
- Eight interactive workshops delivered by internationally known scholars. Each workshop focuses on a specific aspect of research. Holistically, these workshops present and explain to participants how to design, implement and publish research studies from conceptualisation, research design, to data analysis, paper writing, submission and revisions. These workshops are great professional development opportunities to both early career and mature researchers.
- An interactive well-being workshop on "Achieving Durability" delivered by an internationally known professional expert
A detailed program is published at the event website provided below:
https://cauthe.org/2021-jhtm-online-research-symposium/
Organiser of 2021 Journal of Hospitality & Tourism Management Online Research Symposium