Description
Kia ora Hamilton and the Mighty Waikato!
A Few Quiet Yarns is an event that's been running for 9 years; focussed on enabling you to meet the person, through facilitated introductions by host Ryan Ashton who will go round the room and introduce everyone to everyone (Name, Title and Company 203 is the record to beat!) to help you know who is in the room and enable you to connect with ease.
There is a no-selling rule; no one wants to be sold to after hours, but they do want to meet good people, and once you know 'cut of a persons gib', you might ask for their card to arrange a follow up catch up which is great, but you can not flick your cards out or sell.
Checkout this video (albeit Auckland based video, as is the header image for now) 'Personalise business' by meeting the person, not their suit!
Event (Sponsors) Supporters: "It takes a community to support a community"
Rudi Hefer, Mates (Sponsor) Supporter: from Solarix; Rudi and I go back 10+ years where we worked at sister companies IDG & IDC, now "Taking your networking personally" at Solarix, it's a natural fit with AFQY's "Personalising Business" through networking - thanks for helping AFQY come to Hamilton.
Mark Loveys, Community (Sponsor) Supporter: CEO of Datagate and former Lead Singer of Satelite Spies which is a great yarn, especially if you attended a gig... as a NZ Software Business leader with a pedigree for creating and building software companies, his 'new gig' is building the crowd Datagate, the Usage Billing Engine for Utilities - especially Telco's.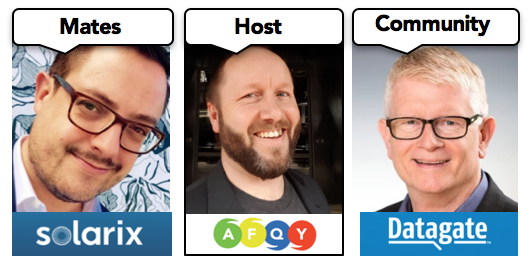 Venue(Sponsor) Supporters:
The Roaming Giant has "come to the party", as our regular Venue Sponsor for bi-monthly event!
Check out what the media say:
Event Format:
5.00pm: Doors open - ensure you bring your ticket to gain entry please - Find Ryan, the host, scan your ticket, get a drink

5.30pm: Event begins, Bar Tab is open (see tab details below under venue for food and beverages)

6.00pm: The first round of introductions for everyone in the room

6.30pm The second round of introductions

7.00pm The Third round of introductions

7.30pm The closing round of introductions, tab reverts to a cash bar.
I invite you to bring others with you and join the group here on Linked In to gain notifications of further events.
Thanks and I look forward to seeing you at "A Few Quiet Yarns".
Ryan Ashton
Cheif Yarner
Founder AFQY