Description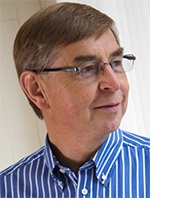 "In a connected world no man is an island and neither is his country"

Economies and workforces are now globalised with wealth generation determined by the connectivity of national infrastructures, industrial investment and workforce adaptability.

Unfortunately, history gives us little guidance to our future as we have never before enjoyed such technological riches or endured the accelerating rates of change! What is clear is that limiting our view and planning to old thinking and the present state of play is dangerous, we have to be holistic and look beyond today's commerce, industry, services and society to a world powered by the new.

In this seminar Peter Cochrane forecasts advances in Materials, Robotics, AI, The Internet of Things, Big Data and Small Data to project the impact on Industry, Government, HealthCare, Education, Employment and Society. He also poses (perhaps) the most important of questions:

"What is our objective and what are we trying to achieve"

This leads to the conclusion that New Materials, The IoT, and AI are fundamental to sustainable societies. Are 3G, 4G and 5G insignificant players? Does the emergence of new localised wireless networks terminated on ubiquitous optical fibre become the dominant mode?

"More things will connect directly to each other over very short distances than via the internet"

All of this is determined by fundamental limitations to raw material and energy supply further constrained by the immutable laws of physics. In that sense the forecasts are without argument!

"The key unpredictability is people - what they're prepared to accept and when"


---
Tuesday 11 October 2016
5.15 pm - 5.30 pm Arrival
5.30 pm - 6.30 pm Presentation and Q & A
6.30 pm - 7.30 pm Drinks and nibbles

Location
The New Zealand Initiative
Level 12, 36 Brandon St, Bayleys Building
Wellington


---

About Professor Peter Cochrane OBE

Peter is an internationally sought after guru who invests his time and money as an agent of change. Renowned for his out of the box thinking, he is an advisor and consultant to companies and governments, the author of blogs, articles and books on technology, business and managing rapid change.

With over 40 years of technology and operational experience, Peter has been involved in the creation and transformation of corporations. His BT career saw him progress to CTO with teams engaged in optical fiber, fixed and mobile networks, artificial life and healthcare, through to war gaming, eCommerce, and business modelling.

Peter has also spent time as an educator and was appointed Professor for the Public Understanding of Science & Technology @ Bristol (1998). He received the Queen's Award for Innovation & Export (1990), numerous Honorary Doctorates and was awarded an OBE (1999) for his contribution to international communications.