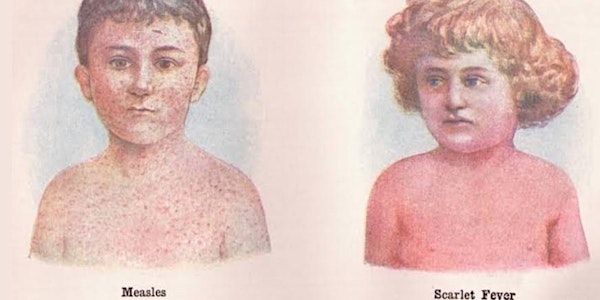 A historical syndemic? Measles and scarlet fever in Victorian goldfields
Heather Battles explores the idea of 'syndemics' through an analysis of four epidemics of measles and scarlet fever between 1853 and 1876.
About this event
Four synchronous epidemics of measles and scarlet fever are observed in the historical data collected by colonial authorities in Victoria, Australia from 1853 to 1876, suggesting some sort of synergistic relationship between the two diseases. While epidemics of measles still occurred during the remainder of the study period (until 1916), no further epidemics of scarlet fever occurred after 1876. This is suggestive of a change in Victoria's disease ecology in the late 1870s.
After analysis of the historical data for potential artefactual cases, my co-author and I concluded that the most likely explanation for the observed pattern is an epidemic synergy that ended after the 1876 epidemic due to a shift in the dominant group A streptococci (GAS) M-type or the loss of a GAS bacteriophage. We situate the emergence and end of this synergistic pattern within the demographic and socioeconomic conditions of the Victorian gold-mining boom in the 1850s to 1870s and post-boom changes in fertility, mortality, and housing infrastructure, highlighting the importance of social conditions in disease evolution.
In this talk, based on a paper co-authored with Phil Roberts (ANU) and published in Social Science History journal last year, I explore the idea that this epidemic synergy might be described as a 'syndemic'.
Dr Heather Battles (she/her) is a Lecturer in Biological Anthropology at the University of Auckland. Her research on infectious disease is inter-/transdisciplinary, combining historical epidemiology, biosocial medical anthropology, and social history.