About this Event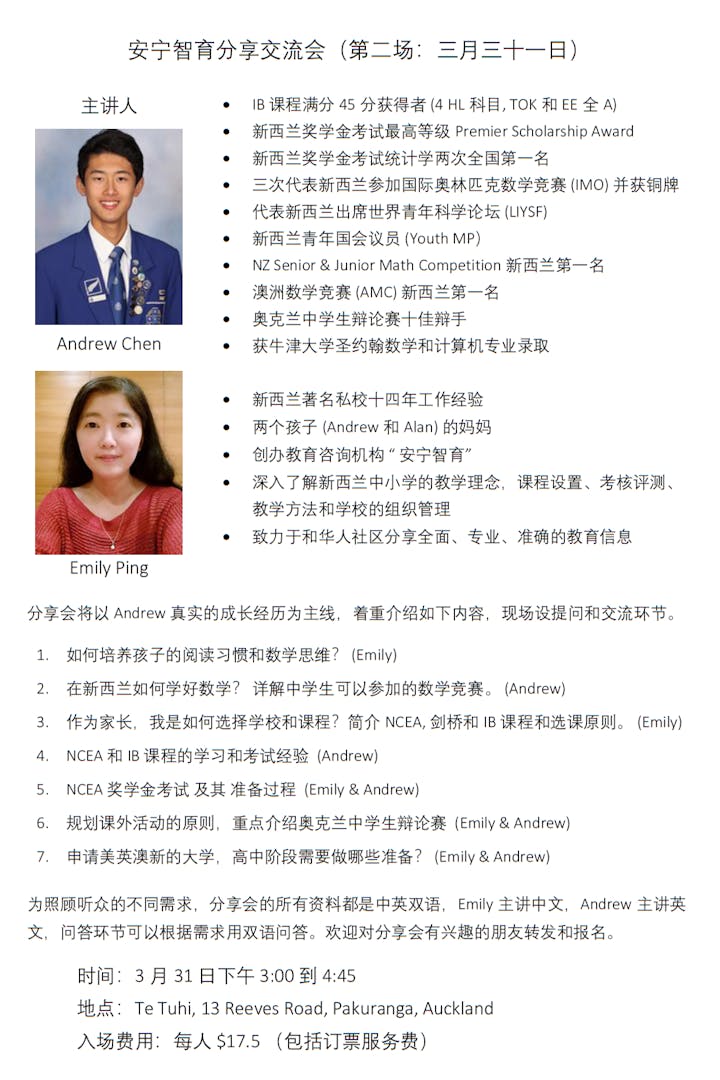 About this event
A seminar about education, including the following topics
1. How to help children develop reading skills and mathematical thought
2. Mathematics competitions in New Zealand
3. How to choose a school and qualification system (NCEA/IB/CIE) as a parent
4. Student experience with NCEA and IB
5. NZ Scholarship examinations
6. Co-curricular activities and debating
7. Preparing for US/UK/Aus/NZ University Applications
FAQ / 常见问题
适合任何年龄段,希望了解新西兰教育体系的家长和高中的学生?
讲座内容丰富,时长近两个小时,适合家长或九年级以上的学生,比较成熟的七、八年级学生也可考虑参加,不建议带小学生来。
Who is attending the seminar suitable for?
The seminar is content-heavy, almost two hours long, and targeted at adults. It could be suitable for students in years 9-13 and more mature year 7/8 students. Bringing younger children is advised against.
孩子是否需要买票?
需要,因为场地位置有限
Do I need to buy tickets for attending children?
Yes, because the venue has limited seats.
Contact us / 联系
Email / 电子邮件: aaeducation@gmail.com