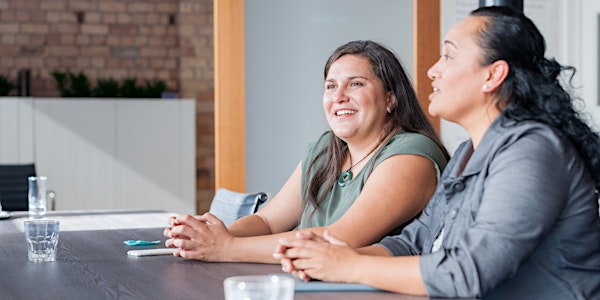 ACADEMIC BRANCH: A Kaupapa Māori approach to Human Resource Management
NEW DATE Please note the new date for this event.
About this event
The Academic Branch invites you to a research findings and practical experiences webinar.
The Academic Branch invites you to a webinar focused on bicultural practices in Aotearoa New Zealand. In this webinar, we will present research findings and practical experiences on Kaupapa Māori approach to Human Resource Management from a panel of three academics and two practitioners who will share their insights into bi cultural issues in HR.
The discussion will offer key learnings to HR leaders who are looking for more insights and direction in the bicultural space.
Each panelist will present briefly before the room opens up for Q&A. The Q&A will be facilitated by Dr Maree Roche.
About our Presenters
Associate Professor Maree Roche
Maree Roche has affiliations to Ngāti Raukawa and is Associate Professor at the University of Waikato. She is a Fellow of the NZ Psychological Society, a Fellow of the Positive Organisational Behavior Institute (USA), and charted member of HRINZ. Her research and spans two main clusters. These are (1) leadership and mindset of high performance at work (2) Māori leadership and indigenous employee development and wellbeing. Maree's research has highlighted to international audiences, the value of understanding and resourcing indigenous employees.
Professor Jarrod Haar
Professor Jarrod Haar is a Professor of Human Resource Management at Auckland University of Technology and has tribal affiliations of Ngāti Maniapoto and Ngāti Mahuta. From 2018-2021, Professor Haar was a Member of the Marsden Fund Council and the Convenor of the Marsden Economics and Human Behavioural Sciences panel. He is a Fellow of the Royal Society of New Zealand Te Apārangi (since 2020), a Research Fellow of the Australia & New Zealand Academy of Management (since 2012), and Chartered Fellow of Human Resources New Zealand (HRNZ). Professor Haar has over 430 refereed academic outputs (including 132 journal articles) including in outlets such as Personnel Psychology, Journal of Vocational Behavior, Human Resource Management Journal, Journal of Occupational Health Psychology and The International Journal of Human Resource Management (amongst others).
Associate Professor David Brougham
Dr David Brougham is an Associate Professor at Massey Business School. David is researching how employees and businesses plan to adapt to changes as a result of technological disruption from AI, automation, robotics, and algorithms etc. At present, he coordinates the School of Management Capstone course. He has over 30 refereed journal articles and over 50 refereed conference papers/presentations. David is the Director of Research within the School of Management and Editor for the New Zealand Journal of Human Resources Management. Prior to his appointment, David worked in the finance industry.
Hanlie Du Plessis
Hanlie du Plessis is Director, Human Resources & Employment Relations, at The University of Waikato. She is a chartered member of HRINZ and a pragmatic Senior HR Leader with strength in partnering with executive level leaders to drive long term people and culture frameworks, policies and systems which reduce risk, drive engagement, and allow organisations and their people to thrive. Hanlie has successfully executed transformational improvements across all aspects of HR and ER including leading major organisational re-design and restructures, delivering best-practice health and safety assessments and employment policies, practices and systems, and improving engagement and performance through innovative programmes and initiatives.
Huiarau Stewart
Huiarau Stewart is Ngāti Awa and Ngāti Tuwharetoa. She has a career spanning three public sector agencies and is currently a senior advisor at the Department of Corrections High Impact Innovation Program. As Māori within the public sector, she has found herself becoming an advocate for bi cultural and especially Māori appropriate employment practices. Ultimately her mahi is to ko au te whenua, ko te whenua ko au - helping our people utilize our whenua in a way that is meaningful to them. Having worked in many Māori and bicultural spaces, Huiarau highlights complex bi cultural issues for HR in organisations and brings a range of experience and industry insights.
Pricing
HRNZ Members = Free
HRNZ Student Members = Free
Non Members = $25.00
Please note our prices include GST.
To Register
HRNZ Members: to receive the discounted Member rates or FREE Member registrations (where available) click on the LOGIN Link under the BUY TICKETS Button, then register through the BUY TICKETS link.
Non-members: register using the BUY TICKETS link in the Event Listing.
Online events, Webinars & Virtual courses: A Zoom Link and joining instructions will be sent the day prior to the event.
Payment
Fees will be due for payment in full prior to the event and are non-refundable unless cancellation has been confirmed by email to branchevents@hrnz.org.nz at least two working days before the event.
Cancellations and Refunds
To receive a full refund cancellations must be received by HRNZ by email to branchevents@hrnz.org.nz two working days before the day of the event.
Cancellations after this time and/or 'no shows' on the day will be payable in full.
Appropriate substitutions are welcome - please email branchevents@hrnz.org.nz with their details.