After the pandemic, could the twenties be roaring once again?
About this Event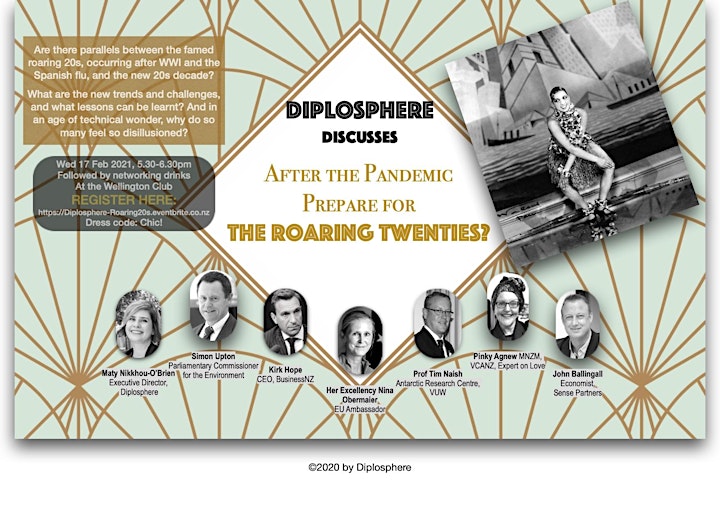 Diplosphere discusses:
Are there parallels between the famed roaring 20s, occurring after WWI and the Spanish flu, and the new 20s decade?
What are the new trends and challenges, and what lessons can be learnt? And in an age of technical wonder, why do so many feel so disillusioned?
Chair: Maty Nikkhou-O'Brien, Founder & Executive Director, Diplosphere
Speakers:
Her Excellency Nina Obermaier, EU Ambassador to New Zealand
Simon Upton, Parliamentary Commissioner for the Environment
Kirk Hope, CEO, BusinessNZ (TBC)
Pinky Agnew MNZM, VCANZ, Expert on Love
John Ballingall, Economist, Sense Partners
Prof Tim Naish, Antarctic Research Centre, Victoria University of Wellington
Proceedings:
5.00pm Doors open
5.30-6.30pm Diplosphere Face to Face discussion
6.30-7.00pm Diplosphere networking drinks
Dress code: Chic