Let's have a blast this weekend, connect with amazing people & make a positive impact on the planet: GET YOUR DONATION-BASED TICKET BELOW!
About this event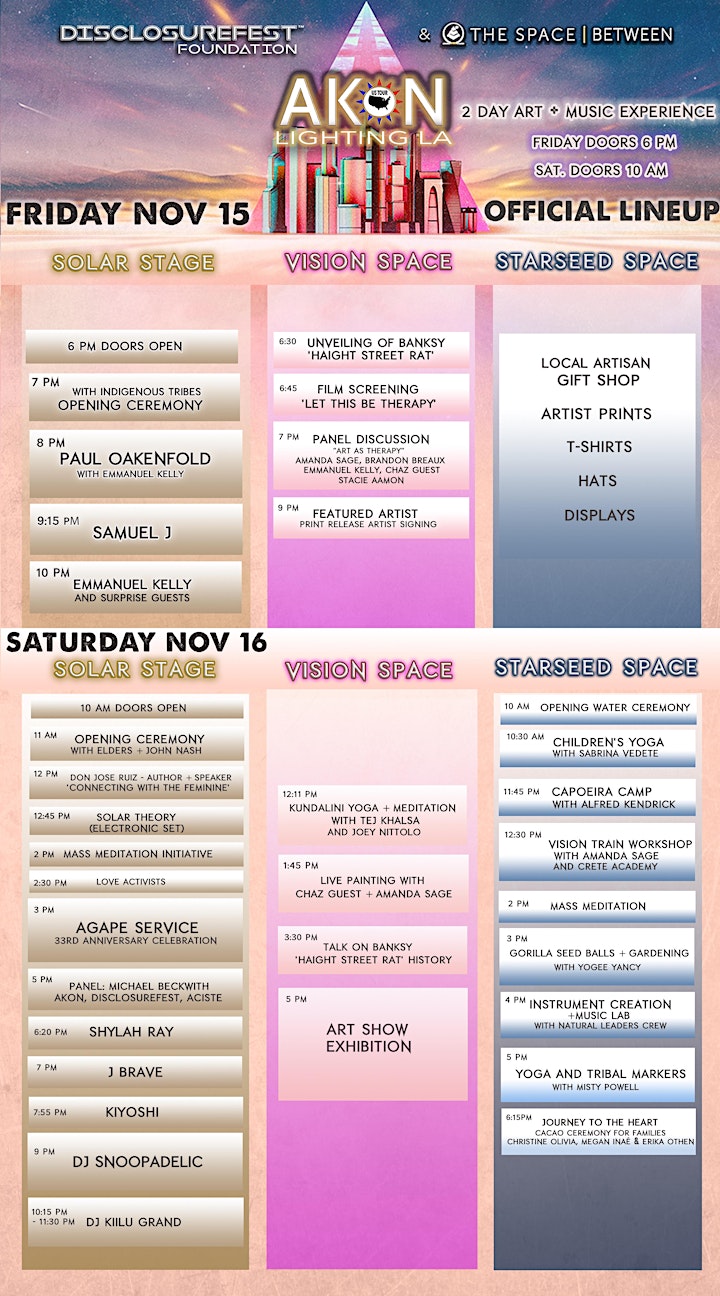 Let's have a blast this weekend, connect with amazing people, and make a positive impact in the world!
An urban conscious music and art experience to celebrate the spirit and be a catalyst for positive change in the world.
Akon Lighting LA is presented by DisclosureFest and The Space Between and will benefit:
Friday, November 15: 6:00PM - 11:00PM
'ENLIGHTENED ART EXPERIENCE' OPENING NIGHT
Unveiling of Banksy's "Haight Street Rat" featured in the documentary Saving Banksy
"Life is Beautiful" sculpture by Mr. Brainwash
Fundraising raffle: Surfboard donated by Kelly Slater, painted by RETNA
Live DJ set by DJ Kiilu Grand of Agape and Freestyle Fellowship
Screening of Let This Be Therapy, a short film featuring Brandon Breaux by Anthony Casanova, as seen at The San Francisco Black Film Festival, Collected Voices Film Festival, Black History Month Film Festival and Spikes Asia Awards Singapore
"Art and the Creative Process as Therapy" panel discussion with artists Amanda Sage, Chaz Guest, Brandon Breaux, singer Emmanuel Kelly, and music therapist Stacie Aamon
Curated merch shop featuring limited edition prints, artists' books, toys, merch and more (open both days)
FRIDAY PERFORMANCES BY
PAUL OAKENFOLD
Emmanuel Kelly, Samuel J & more to be announced!
Saturday, November 16: 10:00AM - 11:00PM
DAY TWO OF THE 'ENLIGHTENED ART EXPERIENCE'
Kundalini yoga with Tej Khalsa and Joey Nittolo (12:00PM)
'Vision Train' childrens' art workshop with Amanda Sage (12:30PM)
Live paintings by Amanda Sage and Chaz Guest
and more wellness and art workshops to be announced
+ a collection of works for sale ongoing from (in alphebetical order) 2Shae, Al Baseer Holly, Amanda Lynn, Amanda Sage, Amber Goldhammer, Andre Saraiva, Antonio Pelayo and Isaac Pelayo, Autumn Skye, Balt Getty, Brandon Boyd, Brandon Breaux, Bruce Irons, Cesario Block Montano, Chad Muska, Chali 2na, Chaz Guest, The Couto Bros, CRYPTIK, David Arquette, Defer, Dr. Dax, Elsa Jon Vidal, Estevan Oriol, Harrison Lance Crawford, Israel Guzman, Jas Petersen, Javier Lopez, JD Shultz, Jef Logan, Jimmy Paintz, Katrien Van Der Scheuren, Katrin Fridriks, Kenton Parker, lifeafterdeath, Linzy Miggantz, LOGIK, Love Crew, Mai Lill, Menso One, Mr. Brainwash, Nico Turner, Pat Conlon, Patrick Hoelck, Plastic Jesus, RISK, Rob Hill, Sawyer Hurwitz, Sean Kushner, Sebastien Walker, Shplinton, Tanya Mikaela, TAZ, Teachr, This Means Mar and more...
The art catalog is available online here. 100% of art sales go to the benefiting organizations.
SPECIAL APPEARANCE BY
Dr. Michael Beckwith, with a special service to celebrate Agape Spiritual Center's 33rd Anniversary (3:00PM)
"Rising to the Challenge to Move Humanity Forward" panel discussion on environmental, social and humanitarian initiatives with Akon Lighting Africa, DisclosureFest Foundation, The American Center for the Integration of Spiritually Transformative Experiences, Spirit Awakening Foundation, Emerging Leaders Academy, Be Hive of Healing, and Blue Sphere Foundation. Moderated by Dr. Beckwith.
SATURDAY PERFORMANCES
Hosted by AKON
DJ SNOOPADELIC
J Brave, Kiyoshi, Shylah Ray, Solar Theory
This is a vegan event and is free for kids 13 & under.
THE LIGHT IN YOU
#GetLitLA
Organizer of Akon Lighting LA
Through art and music events, entertainment and advocacy, it is The Space Between mission to harness the power of these mediums to affect real change around the world. Our pillars include music events fused with sustainable and humanitarian initiatives, a deeply personal and radically real podcast touching on unconventional topics, and grassroots advocacy projects ranging from mental health awareness to combating homelessness.
DisclosureFest Foundation is a multi-cultural, community-based nonprofit platform. Our Foundation unites heart centered, like-minded people in an effort to raise consciousness, provide education on health and wellness and create awareness of global, environmental and humanitarian initiatives with on-going volunteer based programs. The Mass Meditation Initiative in 2018 brought 22,000 people together in Los Angeles State Historic Park.