An Evening with Auckland Central Electorate Candidates, Waiheke Island
About this Event
Postponed
We hope you and your bubbles are all keeping safe. In light of the Auckland region remaining in Level 3, we have made the tough decision to postpone our "Meet the Candidate" evening this Tuesday. We did look into holding it virtually but some of the political parties have put a holt on campaigning, to allow the focus to be 100% on COVID, and this means a virtual event would exclude too many candidates.
It is our aim to reschedule this event, and we are working with the political parties on further dates, but like them, we are waiting to understand if the election will remain on the 19th September or be pushed out.
In light of this, we would ask that you please hold on requesting a refund for your ticket, with the hope of rescheduling to avoid unnecessary administration.
Thank you for your understanding and most importantly please look after yourselves.
Niki and Josie
W3 - Wonderful Waiheke Women is very excited to bring four of the Auckland Central electorate candidates standing for the 2020 elections to Waiheke on Tuesday 18 August.
The candidates include (in alphabetical order of the party they represent):
Greens - Chlöe Swarbrick
Labour – Helen White
National – To be announced 6th August
New Zealand First - Jenny Marcroft
10 minutes per candidate
Each candidate will speak for 10 minutes regarding the issues that are important to them, for Waiheke specifically but also Auckland, and then they will field questions. If you have a question you would like answered, please email it to niki@nsprltd.com.
The evening will be moderated to ensure all candidates are given equal timing. The MC/moderator will also be announced when the candidates bios are sent out.
First time voters - FREE
If you know of a young woman at school or studying, who is a first time voter, this evening is FREE of charge for them. Please enter access code VOTE when you are purchasing your ticket and bring Student Id for verification on the night.
The format for the evening
6.30pm – informal networking with canapés and complimentary drink on arrival.
All wine has been very generously donated by
Kelly Washington Organic Wines
7pm – Everyone seated in the hall, formal welcome, each candidate will have 10 minutes to speak, followed by questions
8pm - Following the questions dessert will be available as part of your ticket, additional drinks can be purchased.
9pm - the evening will conclude.
Spot Prizes
There will also be spot prizes up for grabs donated by our generous sponsors.
All proceeds from the ticket sales and drink sales will go towards Te Huruhi Fundraising initiatives essential to the completion of the new school build.
Please note this is not dinner so please eat prior to arriving.
A HUGE thank you to our very generous SPONSORS:
& our very generous SPOT PRIZE contributors: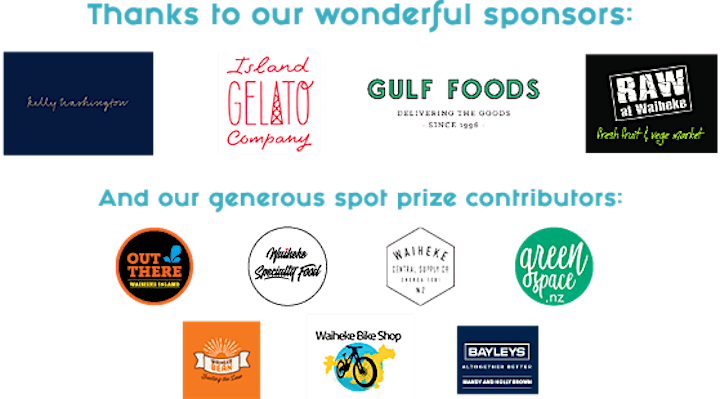 If you are interested in other events for women on the island and would like to join W3 please email josie@localbranch.co.nz