Description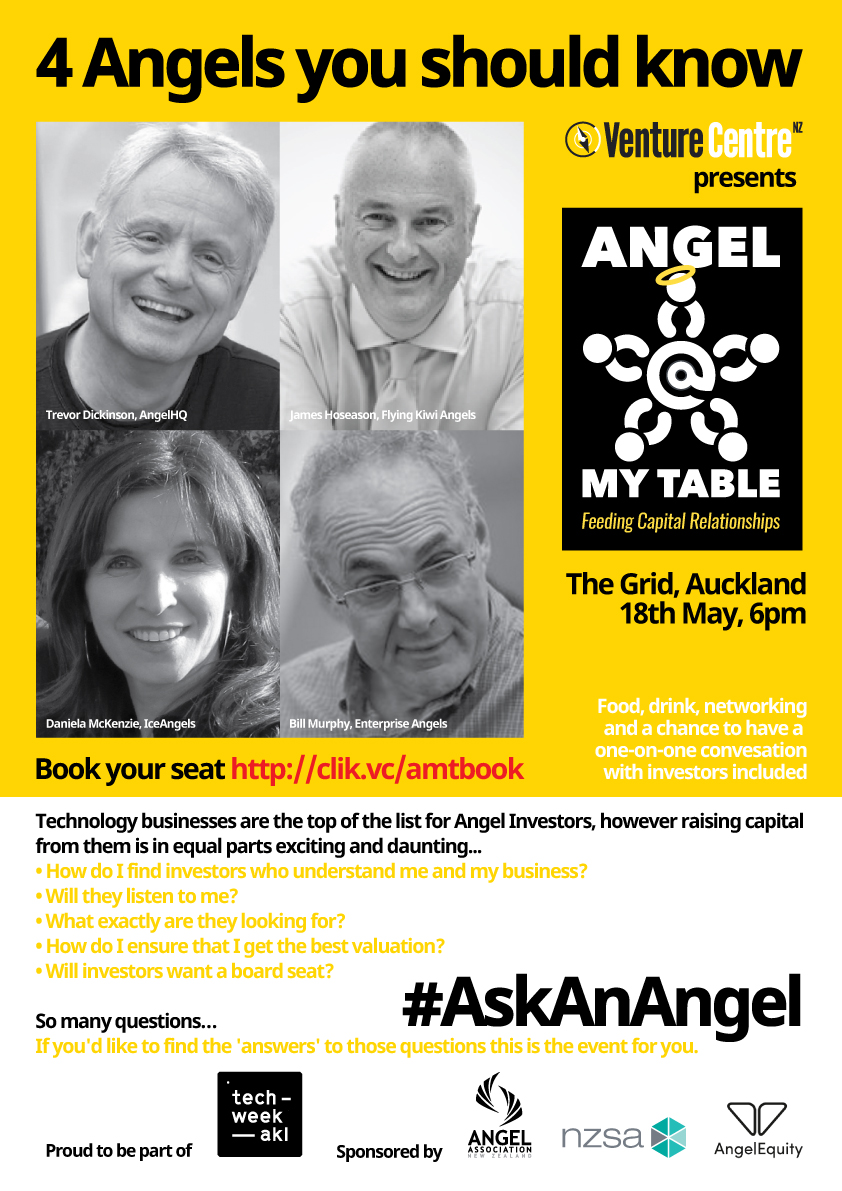 Angel investors have money (often they are successful entrepreneurs in their own right) and experience (they've been there, seen it, done it), but does this mean any angel investor will be right for you? 
 
Very unlikely.
You need an angel who gets your ideas, believes in you, supports your plan and wants to be one of the people who will help you action it all. 


So how do you find an angel investor? Who are they? And, if you're going to spend serious time with angels to grow an enterprise – what kind of people are they? Can you relate and get on?
Find out at Angel@mytable the ideal event for entrepreneurs and angels to meet, get to know and learn about each other in a fun relaxed evening based on the popular TV-show, 'Dragons' den'.

The Format:
PART 1 at The Grid from 6:00pm

'Damsel's Den' - a panel of four Angel Investors, from four New Zealand Angel Investment groups (Flying Kiwi Angels, AngelHQ, Ice Angels and Enterprise Angels), pitch to Entrepreneurs

Each angel on the panel of four has five minutes to pitch to entrepreneurs why they should consider each of them and their preferred investment methodology.
Entrepreneurs in the audience then get to vote, and in so doing give valuable feedback to the investor community about where they see the value of angels to their businesses.
The angels will then pick the ten entrepreneurs (on the basis of their questions) and invite them for supper and a more intimate conversation in a comfortable setting.
The selection process will be introduced at the beginning of the evening.

Two Drinks and Food Platter included in ticket price

PART 2 at the Cellar, Sofitel Hotel from 8:15pm till 10:00pm

Ten entrepreneurs are inviting by the angel panel to continue the conversation, meet, get to know, and learn how each other works in an informal setting.
One Drink and Supper included in ticket price. Cash Bar available
---
Venture Centre is proud to bring Angel@mytable_TechWeek with generous support from the NZSA (New Zealand Software Association), AANZ (Angel Association of New Zealand) and Angel Equity.



Organiser of Angel@mytable_TechweekAKL