Sales Have Ended
Ticket sales have ended
Sorry, these tickets are now sold out.
Sales Have Ended
Ticket sales have ended
Sorry, these tickets are now sold out.
Description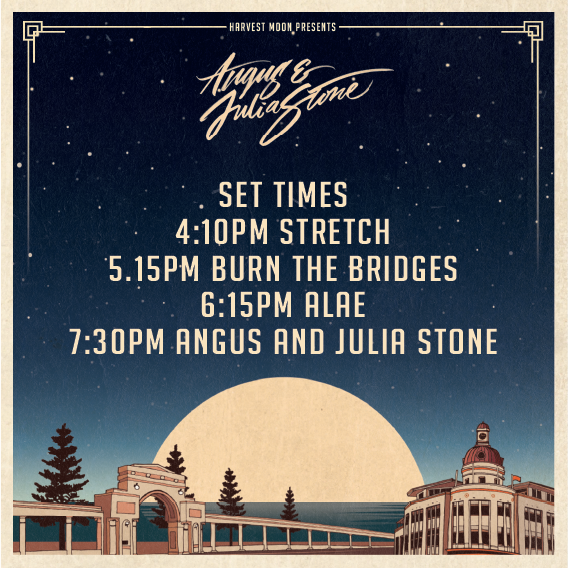 Following hugely popular shows in Nelson and New Plymouth in March, award-winning Australian folk rock/indie duo Angus and Julia Stone return in October to headline the final show of the Harvest Moon concert series at the stunning Church Road Winery.
Angus and Julia has secured themselves a staple name in the indie realm over their twelve-year career. After growing up in Sydney in 2006 where their musician father encouraged the siblings musical talent, Angus and Julia moved to London in 2006 where they recorded their second EP Heart Full of Wine in their flat. Their four albums have amassed multi-platinum sales and numerous ARIA and APRA awards at home, and won a fanbase of millions over spiralling tours of the UK, Europe and North America. The band have over 5 million listeners who tune in each month to stream their music from all over the world. They've also played at some of the world's biggest festivals such as Coachella, Lollapalooza, & Austin City Limits.
The album Snow continues a process the siblings began at the suggestion of producer Rick Rubin on their self-titled album of 2014. "That was the first time that we actually started writing together, in the same room, and I guess we took a leaf from that chapter into this record. This time round though, every song on the record we wrote together" Angus says.
The latest we've heard from them are two acoustic covers - one of Drake's 'Passionfruit' for Triple J's iconic Like A Version, and another of 5 Seconds of Summer's recent hit 'Young Blood'. The two soulful jams are nearly at a combined two million streams within a few weeks of their release.
FAQs
What tickets are available to buy?
General Admission Tickets are $95 +bf.
This event is family friendly. Under 4s are free, 5 and over pay Adult prices.
What time do the gates open?
Gates open at 4.00pm.
What time will the concert finish?
The concert is due to finish at approximately 10.00pm.
What's included in my VIP ticket?
Exclusive access to the Tom McDonald Cellar, VIP toilets and VIP bar and finger food style grazing across the evening. VIP is strictly R18 only.
For more information please contact events@churchroad.co.nz
Is there parking at the venue?
Street parking is available. There is no available parking on-site.
Are there buses to the venue?
Public transport may be available. Taxi company suggestions Hawke's Bay Combined Taxis ph 06 835 7777 or Hastings Taxis ph 06 878 5055.
What can I bring?
Food, picnic rug, plastic glasses/cups, raincoat, sealed water bottles only.
What not to bring?
No BYO alcohol, beverage excluding sealed water bottles, umbrellas, professional cameras, chairs.
Is there free water available at the venue?
Yes there will be free water available at multiple locations onsite for you to refill your water bottles.
Can I purchase food and beverages at the concert?
Yes, there will be beverage tents at the concert selling Church Road wine, beer and a selection of non-alcoholic beverages. Proof of identification will be required upon purchasing wine or beer. Alcohol will not be served to people under the age of 18 years. There will also be a number of food stalls serving a range of foods.
We have a healthy range of vendors onsite selling a range of products including Ice Cream, Milkshakes, Soft drinks, Coffee, Pizza, Waffles, Turkish Kebabs, Japanese Cuisine, Sliders, Salads, Tacos, Quesadillas, Nachos, Hot dogs, Chips, American Hot dogs, Smoothies, Licorice Straps, Twisted Chips and Slushies.
What if it is raining on concert day?
The concert is an outdoor event and can be affected by the weather. The stage is fully covered, the area for concert-goers is uncovered and open-air. Please note the concert will proceed rain or shine so we advise if you are concerned about the conditions, to come prepared with weather appropriate clothing.
Where is the nearest accommodation?
For all accommodation enquiries, please go to www.hawkesbaynz.co.nz
What facilities are available for the disabled and people with restricted movement?
Access is via a sealed road to the park area which is suitable for wheelchair access – disabled parking is limited please phone 06 833 8225 or email events@churchroad.co.nz to reserve your space.
What are the payment options at the venue?
This year we are using AWOP (Another Way of Paying) for all purchases onsite. AWOP is simple to use. Simply visit one of their kiosks onsite to obtain an AWOP card, there is a $1 bond to pay when you first load your card, which is returned to you when you return your card later in the day. Load money on using Cash, Eftpos, or credit card (fees apply). There is no fee to use AWOP, simply present your loaded AWOP card at the bar or food vendors for all purchases.
Can I use cash or Eftpos instead?
All of our bars and food vendors at the concert will be using the AWOP card technology so you will not be able to use cash or Eftpos at these points. But the AWOP cards are very easy to use so if you had spare cash on you, let our team load it on to your card so you don't have to worry about losing it on the day.
What if I have money left on my AWOP card at the end of the day?
At any stage of the day if you decide to head home, or the event has finished, you can stop by our Kiosks to get a refund of the remaining balance on your card. If you forget to do this on the day, then you will have 4 weeks to log on to www.awop.co.nz to refund the money directly in to your bank account.
PLEASE DRINK CHURCH ROAD RESPONSIBLY
Performers
Date and Time
Location
Refund Policy