Description
You will be sent a ZOOM link once you have registered. This event will be run by Ada Sobieszczuk (Auckland) and Lois Nethery (Sydney)
This event will take place on Thursday & Friday (25/26 June) 7-9pm.
4 CPD approved by the NZASA (upon passing a quiz assessment).
June - Extraordinary Vessels
In the 8-Extras topic, we learn the theory of Yuan Qi, congenital and epigenetic issues, long-term emotional patterning and issues of life purpose and personal history.
Extraordinary Vessels are the unconscious blueprint (Yuan Qi) from which the destiny is acted out through the consciousness (Ying Qi) of the Primary Channels. Using these vessels in treatment offers the possibility of profound personal transformation.

You will learn:
How and why to access the Yuan level in your patient

Safely working in the Yuan level, helping patients adjust to change

Yuan-level pulses and specific needle technique
We will show you how to practice these techniques on yourself to start.

*** You must be a registered Chinese Medicine Practitioner to attend this study group ***
---
Study groups
Each of these topics will be offered in Sydney, Melbourne & Auckland.

We have staggered the dates to allow for maximum availability.

We invite all past and current students of Ann Cecil-Sterman (and/or Sean Tuten) to connect through these groups to either:
refresh what you've learned so far; or
be introduced to a topic that you haven't yet been exposed to.
Each day will involve some theory intro/revision, and plenty of time to get hands-on practice and guidance.

If you have enrolled in a course with Ann or Sean and would like to participate in one or more of our Study Groups as preparation, then you are most welcome - please provide evidence of enrolment to the group facilitator.
The study groups are designed to review each of the four chapters in Ann's seminal text - Advanced Acupuncture: A Clinic Manual. Protocols for the Complement Channels of the Complete Acupuncture System: the Sinew, Luo, Divergent and Eight Extraordinary Channels.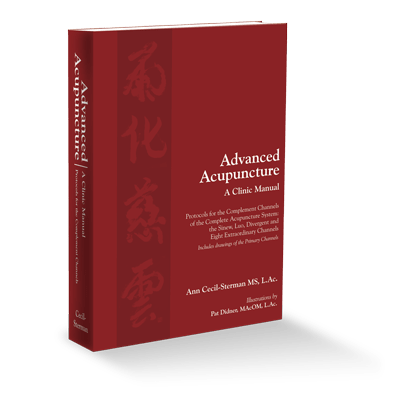 In light of Ann's coming to Australia in July 2020 to teach the Divergents, we would like to emphasis the revision of the Sinews and the EVs which the Divergents connect through.

CHINA

BOOKS

is delighted to announce that

Ann Cecil-Sterman

will be presenting her two-day seminar in July 2020:
"The Divergent Channels:
The Treatment of Serious, Chronic Degenerative Diseases"
Presented by

Ann Cecil-Sterman
We are doubly delighted to announce that

Andrew Sterman

will be presenting his 2-day course immediately after Ann's workshops in both Sydney and Melbourne.
"Designing Meals for Patients:
Matching Diagnosis with Diet"
presented by

Andrew Sterman
Keep your eyes pealed for seminar brochures and further information or stay updated on

CHINA

BOOKS

Facebook page!
MELBOURNE:
Divergent Channels: 24 & 25th July 2020 (Friday - Saturday)

Designing Meals for Patients: 26th & 27th (Sunday - Monday)
Date and time
Location
Refund policy
Organiser of Ann Cecil-Sterman Study Group AUCKLAND Session 5: Extraordinary Vessels