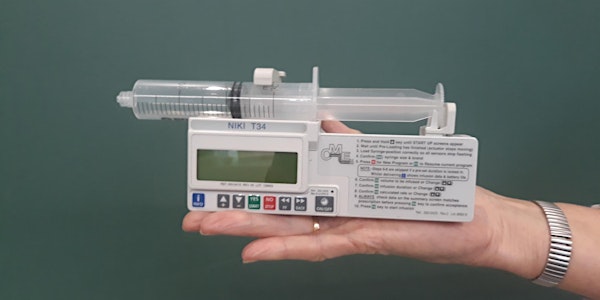 ARC/RN's/DN's /EN's Syringe Driver Workshop Wednesday 23 February 2022
Event Information
Location
Nelson Tasman Hospice
331 Suffolk Road
Nelson, Nelson 7011
New Zealand
Syringe Driver Competency: Venue: Nelson Tasman Hospice, 331 Suffolk Road, Stoke, Nelson
About this event
*NB: For Nelson Hospital staff there is a different learning module - Contact the hospice for dates.
This syringe driver competency assists Registered Nurses, Aged Residential Care Registered Nurses, District Nurses, Hospice & Enrolled Nurses (subject to their scope of practice) to obtain the skills and knowledge required to manage a syringe driver in their work setting.
A pre programme workbook will be emailed to participants. Successful completion of a written test is required for certification.
Target Audience: RN's, Aged Residential Care RN's, District Nurses, EN's subject to scope of practice
Date: Wednesday 23 February 2022
Time: 1300 - 1430 hrs.
Cost: No charge
Duration 1.5 hrs.
Vaccine pass is required : Please show on arrival at the workshop
Limited attendees: Max 10 people per session
Registration is essential
Facilitator: Chris Dunn Clinical Nurse Educator Nelson Tasman Hospice
Venue: Nelson Tasman Hospice, 331 Suffolk Road, Stoke, Nelson
Limited Places: Max 10 attendees

Date and time
Location
Nelson Tasman Hospice
331 Suffolk Road
Nelson, Nelson 7011
New Zealand