Half day course for electricians, tradies, demolition, project management, site managers, facilities managers, maintenance workers and more.
About this event
This 6 module course is designed to provide anyone whose work could expose them to asbestos, or working on projects that may involve asbestos, with sufficient knowledge to avoid putting themselves or others at risk. Course Content
Background - what is asbestos & history
An overview of the history of asbestos and why we are at the point we are now. We will put into context the way the industry has evolved over the years and discuss the different types of regulated asbestos fibres and their key properties. This will set the context for why we find asbestos where to do in New Zealand.
Health risks
The health risks of working in a country where asbestos containing materials were used prevalently is why we need to be asbestos aware. This module will highlight the health issues we know come from asbestos exposure. We will also discuss latency periods for asbestos related diseases and additional risk factors.
Asbestos containing materials (ACMs) and where to find them
We will explore the common ACMs you are likely to come across in domestic and commercial properties. This will be a visual section for the most part to aid identification of suspect materials when working. Feedback on the kinds of work you do prior to the course will help make this section more relevant to your work.
Work involving asbestos & the law
General and specific duties the law requires regarding the risk asbestos can pose. We will talk about guidance and other documents which assist in the management of asbestos risk. In particular, the purpose of asbestos surveys and asbestos management plans and the information they should contain.
Risk Management
Look at what control measures we can put in place to reduce the risk of asbestos fibre release. We will also discuss the types of respiratory and personal protective equipment that are to be used when working around or with asbestos and how to use it.
Emergency procedures
What constitutes an asbestos emergency and the general procedures to be followed for if a suspect material is discovered or there is an accidental release of fibres and accidental damage of ACMs.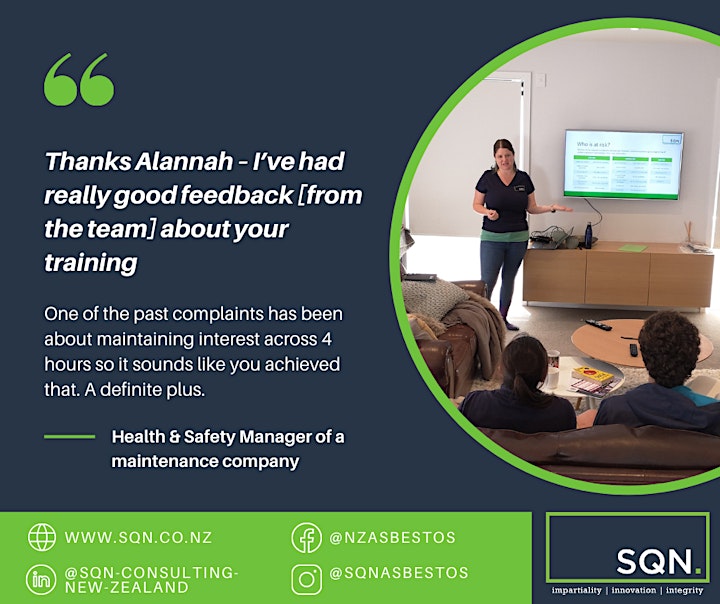 Organizer of Asbestos Awareness Training - Wellington
Alannah has been in the asbestos industry for over 8 years and brings her passion for safety to all our training. She has worked in the UK and New Zealand carrying out asbestos surveys, air monitoring, clearance inspections and lab analysis of building and soil samples for accredited companies across a broad range of building and project types. She fills the training sessions with her real life experience and adapts the courses to the needs of the people attending so everyone leaves with the information they need to carry out their work safely without exposing themselves and those around them to asbestos.