ASIA AFTER FIVE - Wellington Networking Event - Shaping Southeast Asia
Description
Asia After Five is a social networking event hosted by the Asia New Zealand Foundation.
Mix and mingle over drinks and nibbles, hear stories from inspiring individuals and get a taste of the many strands of the New Zealand-Asia relationship.
This Asia After Five features three of Southeast Asia's leading social entreprenuers who will share their insights into the dynamic social enterprise scene in Malaysia, Indonesia and the Philippines.

Raviraj Sawlani, Project TRY, Malaysia
Raviraj is the founder and director of Project Try - a social enterprise with the mission to transform rural youth through economic empowerment. Focused on Sabah in Borneo, he has established a skills centre providing free education and vocational training for marginalised rural youth. In providing this training the aim is to equip rural communities to increase their level of employability and to develop micro entrepreneurs through community farming approaches. Raviraj also leads a for-profit vocational skills business, SKY International Academy, focused on the hospitality and tourism sector. Prior to this, he has had a variety of youth focused roles, including arranging an event with over 16,000 participants that later made the Guinness Book of Records. He has been recognised by the Malaysian government for his work in volunteerism and social enterprise.


Dissa Ahdanisa, Fingertalk, Indonesia
Dissa is founder and CEO of Fingertalk Enterprise, a social enterprise with the mission to connect hearing and Deaf people in Indonesia and to reduce unemployment among the country's Deaf youth. Dissa was inspired by a volunteering trip to Latin America where she visited a café staffed entirely by Deaf people, Café de Las Sonrisas. Fingertalk currently provides 25 job opportunities for Deaf people through a café, car wash and workshop and is working with a restaurant chain and transportation company to match deaf talent with other employment opportunities. Prior to founding Fingertalk, Dissa worked at Credit Suisse Singapore as an Equity Analyst and has a Master of Professional Accounting from the University of New South Wales. Dissa is a language enthusiast and speaks Indonesian, English, Japanese, Spanish and Arabic. She signs Singapore Sign Language (SgSL), American Sign Language (ASL) and Bahasa Isyarat Indonesia (BISINDO).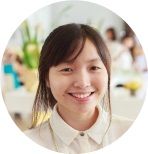 Therese (Reese) Fernandez-Ruiz, Rags2Riches, Philippines
Reese is president and founding partner of Rags2Riches, a fashion and design house that empowers community artisans in the Philippines. Rags2Riches, now nine years old, is considered one of the most successful and pioneering social enterprises in the Philippines with three outlets in major Filipino malls and customers all around the world. Working and training over 900 Filipino community-based artisans, Rags2Riches has fostered sustainable partnerships with these artisans as well as premier Filipino designers who re-imagine and interpret their work to appeal to people all around the world. Reese enjoys fostering sustainable partnerships, curating indigenous and handmade products from all over the world, and creating positive impact through design and social entrepreneurship. She has a number of awards including being the youngest recipient of the Outstanding Women in the Nation's Service for 2010, Young Global Leader of the World Economic Forum 2012, one of Schwab Foundation's 24 social entrepreneurs of the Year 2013, and Forbes Magazine's 30 under 30 social entrepreneurs for 2015.
Raviraj, Dissa and Reese are in New Zealand under the ASEAN Young Business Leaders Initiative, a programme the Foundation manages on behalf of the New Zealand government. While in New Zealand, they will attend the Social Enterprise World Forum, the world's largest and leading social enterprise event.

We are happy for you to invite a colleague or friend to this event. For catering purposes, please ensure they are registered.
Please note that you will need to enter Fujitsu Tower before 6pm as the elevators shut after that time.