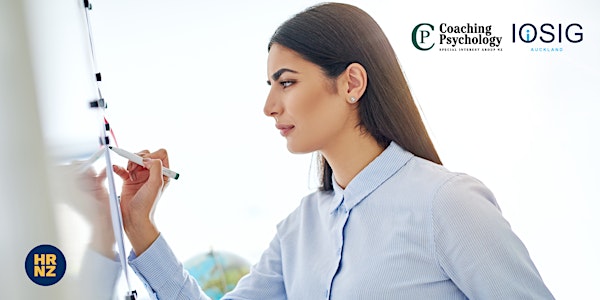 AUCKLAND IO PSYCHOLOGY SIG: Exploring Self Practice and Self Reflection
VIRTUAL EVENT Self Practice Self Reflection as an intensive new form of professional development for coaches.
About this event
Most executive coaches attend training courses and have supervision to enable them to keep up to date and relevant in a rapidly developing area of practice. For many this works well in the early part of their coaching career but as they mature, they often find this combination lacks the intense and direct connection with new methods of practice that they wish for.
A different and more challenging approach to professional development is called self practice/self reflection (SP/SR) and involves understanding coaching 'from the inside out' – by coaches being coached on their own issues and then reflecting on these and applying these learnings within their own practice. This event presents the preliminary data gathered over the last 12 months from a group of coaches attending SP/SR sessions. The data includes ratings of difficulties before and after SP/SR sessions, overall satisfaction with the sessions and live commentary from two coaches about their reaction to this new, different and intensive form of professional development.
This event will be held online via Zoom. Links will be sent the day prior.
About our Presenter Dr Iain McCormick, MD, Executive Coaching Centre
Iain heads the Executive Coaching Centre Limited in New Zealand. He has conducted over 6,000 individual and team coaching sessions over 30 years. Prior to this role he was a Consulting Partner with Deloitte working in Canada and New Zealand and Managing Director of Aon Human Resources Consulting, Hong Kong. He holds a Master of Social Science with First Class Honours, a Diploma in Clinical Psychology and a PhD in organisational psychology for his research in the area of work stress. Iain is a Fellow of the New Zealand Psychological Society.
The CPSIG is delighted to joint venture with IOSIG to provide an opportunity for coaches to benefit from Dr Iain McCormick's innovative approach to ongoing coach development

Pricing
HRNZ Members = FREE
HRNZ Student Members = FREE
Registered Psychologists/Chartered Organisational Psychologists = FREE*
Non Members = $15.00
*Registered Psychologists/Chartered Organisational Psychologists please email your details to branchevents@hrnz.org.nz to register.
Please note our prices include GST.
To Register
HRNZ Members: to receive the discounted Member rates or FREE Member registrations (where available) click on the LOGIN Link under the BUY TICKETS Button, then register through the BUY TICKETS link.
*Registered Psychologists/Chartered Organisational Psychologists please email your details to branchevents@hrnz.org.nz to register.
Non-members: register using the BUY TICKETS link in the Event Listing.
Online events, Webinars & Virtual courses: A Zoom Link and joining instructions will be sent the day prior to the event.
Payment
Fees will be due for payment in full prior to the event.
Cancellations and Refunds
To receive a full refund cancellations must be received by HRNZ by email to branchevents@hrnz.org.nz two working days before the day of the event.
Cancellations after this time and/or 'no shows' on the day will be payable in full.
Appropriate substitutions are welcome - please email branchevents@hrnz.org.nz with their details.