Description
MINDFULNESS 2.0 IS SPECIFICALLY DESIGNED FOR THOSE WHO HAVE COMPLETED THE MINDFULNESS WORKS INTRO TO MINDFULNESS AND MEDITATION COURSE OR WHO HAVE EXISTING MINDFULNESS AND MEDITATION EXPERIENCE.
The Mindfulness Works exclusive Mindfulness 2.0 course provides you with further support for your ongoing journey. The focus of the course is on the deeper aspects of mindfulness and meditation, compassion for yourselves and others as well as encouraging and supporting you in a daily practice.
Deepen your practice and enjoy the support of a group and an experienced mindfulness facilitator with the Mindfulness 2.0 course. The course includes a guidebook for you to keep.
Enjoy 4 x 90-minute weekly classes to give you the greatest opportunity to relax, enjoy a longer guided meditation and to explore the more profound aspects of mindfulness and meditation.



EXCLUSIVE COURSE DESIGNED BY GLENDA IRWIN FOR MINDFULNESS WORKS: This course was designed by mindfulness educator and senior Mindfulness Works facilitator, Glenda Irwin. As such, it meets the high standards participants have experienced in our Introductory course. Instructions are straightforward and practical, emphasis is given to your own experience and there is a strong focus on compassion, self-acceptance and self-love.
4 x 90 MINUTE CLASSES: Take your time to explore aspects of mindfulness with longer classes. Enjoy longer sitting times and more time for questions and feedback. Enjoy a full 90 minutes out of your busy life to put you and your mindfulness practice and well-being to the fore.
NO-RISK MONEY-BACK GUARANTEE: As with all Mindfulness Works courses, if you attend all the classes (complete the course) and don't feel you have received any benefit, you are entitled to a full 100% money-back refund. You still get to keep all the course materials, downloadable guided meditations and workbook.
EXCLUSIVE GUIDEBOOK: Our exclusive mindfulness guidebook is for you to keep. This includes weekly assignments, lots of articles and a reading list.
EXPERIENCED AND WELL-SUPPORTED TEACHERS: Receive guidance from our most experienced mindfulness teachers.
MINDFULNESS 2.0 COURSE CONTENTS
Week 1: The Power of Now
The three components of human well-being
The neuro-psychology of mindfulness
The variety of meditation
Questions and discussion.
Week 2: Mindfulness in Relationship
Mindfulness in relationship to us, others and life
Awareness of feeling-tones
Conflict and connection
More on the neuroscience of mindfulness
Questions and discussion
Week 3: Inner Calm and Mindful Movement
Inner calm and equanimity
Yoga, Qi Gong, Tai Chi and other body-based mindfulness practices
Mindful movement
Questions and discussion
Week 4: Authentic Happiness and True Freedom
What does it mean to be truly happy?
Exploring happiness in the present moment
Accepting the ups and downs of our human experience
Self-compassion and self-love
All Introductory Courses Include:
Guided mindfulness meditation audio files

Handouts and articles for each class
Weekly email instructions and articles

Refund policy and money back guarantee
Should you attend the entire course and not be satisfied, you are entitled to a full 100% refund should you wish.
How long is each weekly class and what happens?
Each class is 90 minutes long. There will be a guided meditation for a period. This will include meditation instruction. After the meditation and instruction, there will be a talk or discussion. This includes a question and answer time.
Who is it suitable for?
This course is suitable for people who have attended the Mindfulness Works 4-week Introduction to Mindfulness and Meditation course or who have existing mindfulness and meditation experience.
YOUR COURSE FACILITATOR IS GLENDA IRWIN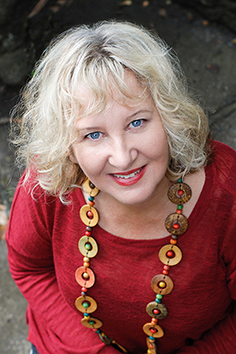 Glenda is a senior facilitator, and facilitators' trainer/supervisor for Mindfulness Works.
She began teaching mindfulness to children in 2010 as a response to her own challenges as a parent. She trained with Amy Saltzman (USA 'Still Quiet Place') and went on to write many courses and parent/child mindfulness lessons. She is the creator of 'Mindful Colouring for Kids'.
Glenda and her partner, Chris Irwin, direct Mindfulness Matters — teaching mindfulness to organisations and the general public, focused on creating community for practitioners of mindfulness. Seeing clients for one-to-one sessions using ACT (Acceptance and Commitment Therapy) and with her trainings as a life coach, Glenda firmly believes the support of a compassionate teacher is key to our finding our unique 'me-ness'. Glenda's principle teachers are Joseph Goldstein, Rick Hanson, Dr Paul Gilbert and her own son, Cameron Irwin.
Glenda was a successful Film Art Director during her 18-year OE. She worked on Star Wars, danced with Keith Richards and asked Frank Sinatra to sing her a line from 'New York, New York' which he kindly did. To this day, she loves art and movement; some of her hobbies include practicing Qi Gong and sketching (both of which she uses to further her mindfulness practice).
Glenda has a 'glass half full' nature and feels as if life just worked out the way she thought it would, but via a different route.
Questions or More Information:
If you have questions or require more information:
Email: karen@mindfulnessworks.co.nz
Ring or text: 027 664 9281
Contact Form: Mindfulness Works website contact form