Join Auckland Branch, Evangelia (past CEO of Breast Cancer Foundation) and cancer survivor Kylie Hodgson in support of Breast Cancer.
About this event
Pink Ribbon Breakfast's are the Breast Cancer Foundation NZ's biggest fundraising campaign, where each year, thousands of amazing Kiwis all across NZ get together to do good in their communities. The money raised helps fund breast cancer education; innovative projects by some of our country's top researchers; and supports patients and their families as they navigate through their breast cancer journeys.
Join us as we help to raise funds for this worthy cause and hear from past CEO Evangelia Henderson about the great things the Foundation are doing and Kylie Hodgson's powerful survivor journey, providing an insight from both a patient and a nursing perspective.
Starting with a light breakfast and networking, followed by our speakers.
A special thank you to the University of Auckland for the use of their venue.
$10 from each ticket purchased will go directly to the Breast Cancer Foundation. There is also the option to donate extra at the time of registration.
About our Presenters
Kylie Hodgson is a registered nurse with over 25 years experience. Kylie has been working as a professional teaching fellow in the University of Auckland School of Nursing for the past 6 years. She is a breast cancer survivor after being diagnosed in 2019 through the Breastscreen Aotearoa New Zealand screening programme.
Paid Parking is available under the Owen G Glenn Building. Map below: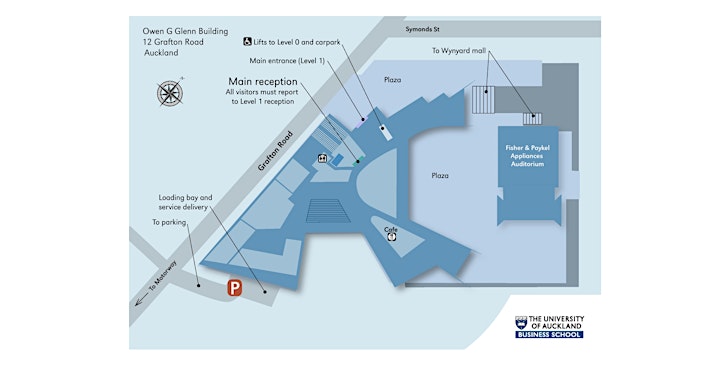 Pricing
Please note our prices include GST.
$10 from each ticket purchased will go directly to the Breast Cancer Foundation.
To Register
Please register through the BUY TICKETS Button, selecting the appropriate ticket option.
You can also make a donation to the Breast Cancer Foundation at the time of registration.
Payment
Fees will be due for payment in full prior to the event.
Cancellations and Refunds
To receive a full refund cancellations must be received by HRNZ by email to branchevents@hrnz.org.nz two working days before the day of the event.
Cancellations after this time and/or 'no shows' on the day will be payable in full.
Appropriate substitutions are welcome - please email branchevents@hrnz.org.nz with their details.
Attending HRNZ Events
If you are unwell or have been around anyone that has been unwell, please do not attend this event. Please ensure you abide by the health and safety guidelines of the venue. You must check in on arrival, so we have an accurate record of attendance.
Events are subject to Ministry of Health guidelines and the HRNZ internal COVID 19 Events policy. To view HRNZ's internal COVID 19 Events Policy please click here.
Organiser of AUCKLAND: Pink Ribbon Breakfast