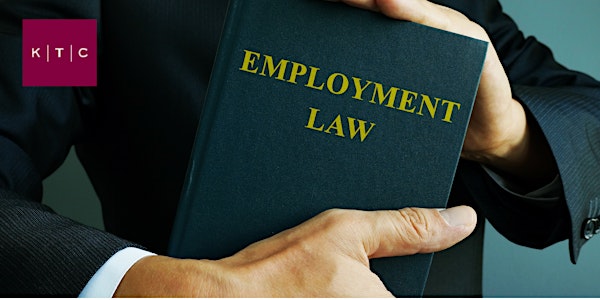 AUCKLAND SOUTH: Employment Law | A review of 2021 and Upcoming Developments
About this event
2021 has seen significant developments in employment law in New Zealand. Join us for a workshop.
The workshop will explore the year's important legislative and case law developments, the impact of the Covid-19 pandemic on employment law and look ahead to 2022. We will cover the following topics:
* COVID-19
* Vaccinations in the workplace
* Legislation update
* Key cases from 2021
* New ways of working & current workplace trends
Spaces are limited so please register as soon as possible to secure your place.
About our Speakers
SIMON LAPTHORNE, Executive Partner
Simon Lapthorne is a Partner at Kiely Thompson Caisley and has particular experience in employment dispute resolution, disciplinary investigations, performance management, restructuring and redundancies. He also has extensive litigation experience and has appeared before the Employment Relations Authority and High Court.
LAURA CHAPMAN, Partner
Laura Chapman is a Partner at Kiely Thompson Caisley with broad experience advising on the employment aspects of commercial transactions, employee relations, employee dispute resolution, employee investigations. She routinely deals with matters related to employee incentivisation, employee data privacy, and post termination restrictions.
With thanks to our Sponsor Kiely Thompson Caisley
Kiely Thompson Caisley is a leading boutique employment law firm.
They are accustomed to providing advice to many of New Zealand's largest corporates as well as many significant public sector organisations.
They pride themselves on providing prompt, sound, practical advice that takes account of legislative responsibilities and media sensitivities.

Pricing
HRNZ Members = FREE
HRNZ Student Members = FREE
Non Members = $25
Please note our prices include GST.
To Register
HRNZ Members: to receive the discounted Member rates or FREE Member registrations (where available) click on the LOGIN Link under the BUY TICKETS Button, then register through the BUY TICKETS link.
Non-members: register using the BUY TICKETS link in the Event Listing.
Online events, Webinars & Virtual courses: A Zoom Link and joining instructions will be sent the day prior to the event.
Payment
Fees will be due for payment in full prior to the event and are non-refundable unless cancellation has been confirmed by email to branchevents@hrnz.org.nz at least two working days before the event.
Cancellations and Refunds
To receive a full refund cancellations must be received by HRNZ by email to branchevents@hrnz.org.nz two working days before the day of the event.
Cancellations after this time and/or 'no shows' on the day will be payable in full.
Appropriate substitutions are welcome - please email branchevents@hrnz.org.nz with their details.