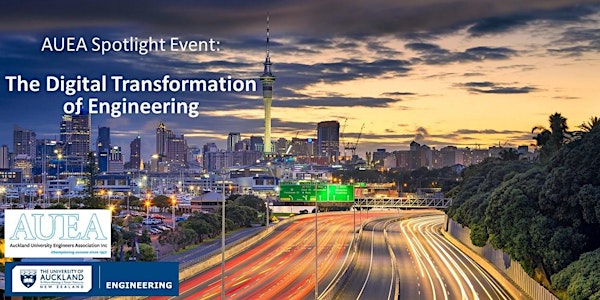 AUEA Spotlight Event: Digital transformation of engineering
Location
The Faculty of Engineering, University of Auckland
20 Symonds St
Auckland, Auckland 1010
New Zealand
Connecting the physical and digital worlds - transforming the way engineering works
About this event
Registrations for this event are available in-person and online, and in-person registrants will also receive an online link in case they are unable to travel to the event on the day.
The event will be recorded and available for viewing on YouTube.
Theme: Digital transformation of engineering
Topic: Connecting the physical and digital worlds - transforming the way engineering works
Digital transformation is the integration of technology into all areas of a business, changing how engineers operate and deliver value to customers. It's about continuously challenging the status quo, harnessing the power of digital technologies to make operations more efficient, productive, and safe.
Digital technologies can be both introduced at the management level of a construction organisation and at the field level of a construction project. Each business, and project will look different in terms of "Digital Transformation" but ultimately it is about improving transparency, productivity, and the handover and maintenance of the deliverable.
The AUEA Spotlight Event for 2022 will focus on digital transformations powered by a range of Trimble's integrated technologies for engineering and related industries. Trimble software, hardware and services are transforming industries such as agriculture, construction, geospatial and transportation and logistics.
The Spotlight event will feature three projects, demonstrating core technologies in positioning, modelling, connectivity and data analytics and include opportunities to get hands-on experience with some of the equipment and technologies.
Faculty of Engineering's partnership with Trimble Inc.
Led by the Faculty of Engineering, the University of Auckland signed a major partnership and sponsorship agreement in late 2021 with US-based global technology leader, Trimble Inc. Under the agreement the Faculty has established a Trimble Technology Lab (TTL) in the Engineering building on Symonds St. Trimble is providing a wide range of their advanced technologies to the University for teaching and research, including; 1,840 licences across 14 industry-leading software products, and eight items of advanced equipment. The Auckland Trimble Technology Lab is Trimble's largest partnership among their 26 or so technology labs and partnerships with leading universities around the world, and is the University's largest ever sponsorship agreement and corporate partnership.
The AUEA and Faculty are proud to partner with Trimble to host this AUEA Spotlight event exploring the 'digital transformation of engineering'.
Spotlight Case Studies of Digital Transformation
CASE STUDY 1: Auckland City Rail Link
The City Rail Link (CRL) is New Zealand's largest transport infrastructure project. Trimble technologies have been used and integrated from the beginning for a wide range of purposes, including Survey Data Collection, Machine control and Automation, Tunnel Boring Machines operations, Asbuilting, and Rail Layout etc.
Representatives from the City Rail Link and Trimble will show some of the key digital technologies underpinning this major project, and the benefits gained.
CASE STUDY 2: Transforming the way a local construction company works
Founded in 2013, Southbase Construction is an ambitious company with a clear vision: to have the best delivery track record in the industry, bar none. With offices in Auckland, Christchurch, Hamilton and Queenstown, Southbase has embraced the digital transformation of their business, using Building Information Modelling (BIM) and the technologies associated with this, such as 3D Scanning, Mixed Reality Visualisation, and Robotics.
Southbase's presentation will describe what they've done, and what digital transformation means for their business and customers.
CASE STUDY 3: 'Ugly duckling to stunning swan' … transforming the Faculty's Trimble Technology Lab
The University's Trimble Technology Lab, located within The Faculty of Engineering, covers 480 sqm across four rooms on the lower ground Level 3 of the original Engineering building on Symonds St. The Lab hosts 225 desktop computers, data projectors and other features. From something of an 'ugly duckling', the spaces have now been transformed with dramatic branding and graphics. With our building and city in lockdown late last year, and Trimble's design team based in the USA, the transformation of this space was achieved digitally through 3D Scanning of the spaces, Modelling and Design in Sketchup, and Mixed Reality Visualisation.
This presentation will demonstrate all these technologies, and include virtual and actual walk-throughs of the TTL spaces, adjacent to the Spotlight venue. Some of the equipment and technologies will be available in the TTL afterwards for participants to get some hands-on experience.