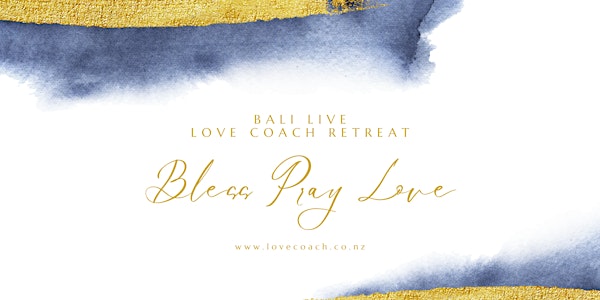 Bali Live BLESS PRAY LOVE New Moon LOVE COACH Online Retreat - 1st Feb'2022
Refund policy
Contact the organiser to request a refund.
Eventbrite's fee is nonrefundable.
LOVE COACH Adriane Hartigan and her 'Healers Team of Divine Magic' offer Blessings for Love, Health & Success from Bali to the whole world!
About this event
What a remarkable, unexpected gift that was! The sight of Dewi whirling in the evening light at the very end felt almost biblical, it was so golden...! I loved how you created a space in which immediate, deep sharing was possible." R.W. NEW ZEALAND
After the great success (and numerous outstanding testimonials later) - reflecting on our inaugural BALI LIVE 'New Moon' Love Coach Retreat from 7th September'21 and the following months, we are proud to announce our next 3.5-hrs 'New Moon' Love Coach Retreat and Celebration - channeled & transmitted LIVE online on Zoom
Bali Live "BLESS PRAY LOVE" New Moon LOVE COACH Online Retreat
A ZOOM Relationship, Health & Success Awakening, Love Life Design & Relationship Healing Journey as well as Traditional Ceremony live-streamed from the oceanfront temple "Tana Loth" in Bali - as well as from New Zealand and the UK.
Facilitated by
Adriane Hartigan-von Strauch, Love Coach & Spiritual Awakening Teacher
Kadek Dewi Ariastini, Bali Healer & Celebrant
Craig Lyle, Energy Healer & Medium
Francis Evans, Mystic & Astrologer
Louise Fox, Reiki Master & Light Language Channel
and
David MacKenzie, Therapist & Tibetan Sound Healer
Live Streamed on Zoom from the ULUWATU Ocran Temple, on the most Southern point of Bali - as well as Dewi's Home Temple in Singaraja/North Bali - this month away from our beautiful home, the Boutique Retreat Villa and Spa 'Griya Bali Surga'
EVENT BACKGROUND
Feeling the desire to travel and expand beyond borders and inner boundaries?
Dealing with a past or current relationship that requires healing, forgiveness, and transformation?
Seeking to manifest love, health, abundance, and success in one or more areas of your life?
Then this LIVE online event is for you...
During Covid19 lockdowns in Bali & New Zealand and many places globally,
Adriane and her Love Coach alliance team are creating a collaborative and ceremonial 5-hrs online embracing the monthly 'New Moon' collectively with
Love Manifestation Ritual, Relationship Healing, Sound Meditation & Balinese Traditional 'New Moon' Ceremony conducted LIVE as a Bali sunset retreat finale
as well as Astrology and Tarot - reflecting on the 'New Moon' happening astronomically & planetarily in the star sign of Aquarius on 1st February 2022.
In this 3.5-hour process, we will explore and awaken intimate spaces within ourselves and in our relationship with others, particularly the intimately intelligent connections we share with Lovers and Life Partners. Any other area of your life will receive healing & manifestation blessings effortlessly and abundantly.
If you are Single this retreat will guide you through a sacred attraction and manifestation process - allowing you to express your desire to experience LOVE in your life to the divine. The entire group will be gently & sacredly holding space for one another - in a confidential and safe online zoom group setting and our created breakout rooms.
If you are currently in a committed or an open relationship, then the intimate connection you have with your partner is offered to be cleared, healed, and upgraded. Any other health and life issues may be asked to be healed and transformed!
Every sequence of the event is designed to reveal what wants & needs to be released and shifted. On a collective scale, the individual participants will help each other as heart-centered transmitters in co-creatively building a quantum field for spiritual awakening and self-empowerment.
This online retreat follows the success strategy Adriane has extensively developed in the last 8 years with her "Illuminating Quantum Intimacy LOVE COACH RETREAT" series - held twice annually in Bali & NZ since 2014 including March 2020, just before Covid 19 hit Bali and her home country. Plans to return to Bali in July 2021 had recently come to a sudden stop as borders were closed - however due to divine intervention Adriane has now successfully returned to Bali to continue her magical manifestation, coaching and teaching work LIVE on this beautiful indonesian island.
This global event allows us to keep the beautiful Bali Spirit of our LOVE COACH Retreats alive, while global COVID19 travel restrictions limit our opportunity to conduct these residential seminars & gatherings in an international group setting in Indonesia and/or in New Zealand.
SHARING ABUNDANCE
We are offering a sliding scale of ticket fee options (NZ$111, NZ$88, NZ$66, NZ$44), which allows every participant to book accordingly to their current level of financial ability & offered generosity - contributing towards this international team project created by Adriane, Dewi, and our collaborators.
The minimum ticket category offered for this global event is NZ$22 - covering the costs required to prepare for the sacred offering baskets and ceremony spaces in and around Griya Bali Surga in North Bali. 'Exchanging value' will benefit the ceremonial and healing effect on your very own individual journey to receiving the celestial grace and auspicious New Moon blessings offered.
Further Event Info & Preparation Instructions will be sent to you by email once we have received your confirmed booking - thank you!
Your registration and commitment to supporting the Bali community spirit we are co-creating together are highly appreciated. We are looking forward to a magical and accelerating 'New Moon' Love Coach Retreat experience shared on 1st February 2022 - with you and our international guests attending live & online!