Beginner's Guide To Screenwriting 2 & 3 November 2013

Saturday, 2 November 2013 at 9:30 am

-

Sunday, 3 November 2013 at 4:30 pm (NZDT)
Event Details
Busting to write for the big screen but not sure where to start?
Beginner's Guide is an intensive two day workshop designed to demystify the nuts and bolts of screenwriting. Screenwriting has much in common with other forms of creative writing and storytelling but it has a distinct form and language.  This workshop provides an excellent grounding in both and offers insight into how film and television projects are put together.
Who's it for?  New screenwriters or industry professionals(producers, directors, actors, editors) looking to up skill. 
Wish this workshop was happening in Wellington? Well, it is!
Click here: http://www.eventbrite.co.nz/event/7615713805
 What people are saying:
"

Loved it! Kathryn gets straight to the point and gives clear, practical advice about screenwriting. She completely demystifies the process."
Rebecca Barry - Journalist/Screenwriter
"Kathryn Burnett is the bombdiggity.  She brings amazing experience, intelligence, and passion to her teaching. She has a comprehensive understanding of movies, cinema history, and storytelling technique, and is effective and engaging when sharing that knowledge with her students. Kathryn is to storytelling tutors as Carlos the Jackal is to international assassins.  I can't recommend her highly enough."
Steve Barr - screenwriter/producer/development executive
 "Kathryn Burnett's workshop was the perfect introduction to screenwriting - an absorbing, entertaining and provocative session which made the intricacies of the art seem logical and accessible. I would have no hesitation in recommending them to anyone who has a curiosity about screenwriting - I left the course energised and informed, and ready to write."
Duncan Greive – Critic/Journalist
"Kathryn's Screenwriting workshop was brilliant. I loved learning from her and would sit at the front of the class, furiously jotting down notes like a nerd. Kathryn has a natural ability to connect with an audience. She teaches with patience and humour and she provides cake for morning tea! "
Jaquie Brown – Presenter/Actor/Screenwriter 
 "This workshop was just what I needed as a beginner. It did more than I ever expected, giving me the tools and theory I needed to get started." 
Melinda Farris - PR consultant (Washington DC)
Participants will learn the basic how and whys of writing for film including:
Premise/Idea - which ideas are best suited to film/TV?
The necessary elements for a great film idea.
Audience - how they watch film and why that matters to the screenwriter.
Plot - how do they work and how to build them for the audiovisual medium.
Story structure - 3 Act structure and other narrative forms.
Formatting - the hows and whys of correct screenplay formatting.
The difference between synopsis, script treatment and outline.
The visual techniques used in screenplays.
Character creation/development - what makes a compelling character?
Character arc - what is that and why is it important?
Dialogue/Big print - how to and how not to.
Where to go once you're done?
 Even more cracking testimonials...
 "Kathryn Burnett's "Beginners Guide to Screenwriting Workshop" was a fascinating and valuable learning experience for participants of the intensive two-day course recently held on the University of Waikato's Tauranga campus; her vast knowledge of the screen industry, along with its requirements of the screenwriter, were effortlessly conveyed by her clear/dynamic tutoring style. Participants not only valued the generous manner in which Kathryn shared her knowledge, but they also felt encouraged to participate in the discussion times that were an integral part of the workshop. As an adult community education coordinator of many years, I would rate Kathryn Burnett as one of the most dynamic tutors I have ever seen. The evaluation forms from participants were full of praise for both the tutor and the relevance of her material; many told me personally that it was the best writing course that they had ever attended." 
Nyree Sherlock (Adult Community Education Advisor, CCE, University of Waikato at Tauranga.) 
Kathryn Burnett is an award-winning screenwriter, dynamic workshop facilitator, script consultant and playwright.  She designed her BrainStorm Creativity Workshops in 2010 and has been creatively reinvigorating people ever since. Kathryn produced her first play Mike & Virginia (co-written Nick Ward) in 2011 and it is scheduled for production by Circa Theatre in 2013.  She recently wrote the short film Shelved, has two screenplays in development and is working as a script consultant on two feature films.  She has worked in the televison/film industry for over 18 years, has significant television writing credits and has developed numerous television series for New Zealand's major production companies. In addition, she has worked as a Script Consultant/Assessor in film and television.  
When: 9.30am – 4.30pm - 2 & 3 November 2013 (Two-day workshop)
Where: St Columba Centre, Ponsonby, Auckland
Cost:
General: $295.00 (gst incl)
Student:$245 (gst incl)
Industry Guild Member: $255 (incl gst)
When & Where

St Columba Centre
40 Vermont Street
Ponsonby
Auckland
New Zealand

Saturday, 2 November 2013 at 9:30 am

-

Sunday, 3 November 2013 at 4:30 pm (NZDT)
Add to my calendar
Organiser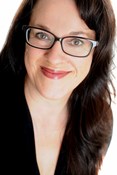 Kathryn Burnett is a professional screenwriter, playwright and writing coach who delights in creatively inspiring others. She has worked in the arts industry for 20 years and has helped numerous writers both new and experienced.  She is also a creativity coach who runs dynamic Ideation and Creativity workshops for businesses and organisations.