Location
CUSSC Lodge, Temple Basin
State Highway 73
Arthur's Pass Village, Canterbury 7875
New Zealand
Right, I hope everyone has their post stamps, cause this August we are gonna SEEEEEEEEEEND IT!
About this event
The ticket password has been sent to your email assuming you are a CUSSC member (If you haven't received the email then contact us). If not you'll need to Become a CUSSC member and have paid the membership fee because we will be checking!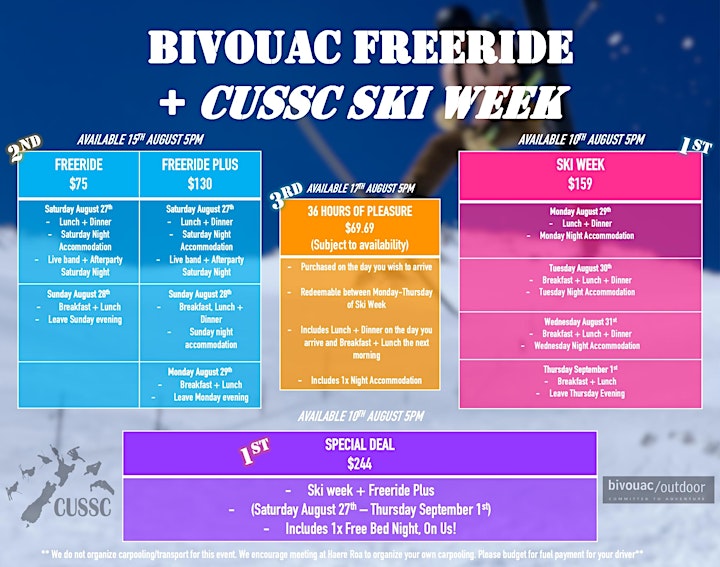 CUSSC presents a glorious combination of events; none other than the annual Bivouac Freeride Weekend, rolling swiftly into the infamous CUSSC ski week! Featuring guest appearances from all major university ski clubs in NZ!
This year will be bigger and better than ever. Mr DJ, please queue the biggest sends of the season, and a party that scores higher on the Gnar chart than Temple Basin does on the altitude chart.
Bivouac Freeride Competition will take place on Saturday after lunch (Rain check Sunday morning) and has a range of categories open to all candidates from top skiers, all the way to first-time skiers! Everyone participates and it's a guaranteed ball of a time with prizes for all. We don't care if it's a triple cork melon blunt, or the world's most uncoordinated hockey stop. We want to see it all! Then on Saturday night join us for the night of your life and make the mountains shake as you groove out to the live band: RAGWEED
Ski week will continue from the Sunday evening until Friday and this year will be fresher than a cool cold cucumber. There will be plenty of friends to make and drops to send over the week. Hydration funnels will be had, powder will be slayed, beer will be consumed and over 40 hours of skiing are up for grabs!
Tickets will be dropping soon with many options for skiweek and the Freeride Weekend or both. Our Treasurer has done something dirty to the numbers to make this dirt-cheap so you'll kick yourself if you miss out.
Clear your calendar, this is going to be massive.