About this Event
The key to health and happiness
Body & Brain Yoga teaches an innovative form of exercise. We combine yoga and stretching, and qigong(taichi) and self-healing exercises with dynamic-energy meditation in one class.
At Body & Brain, we use a holistic approach to show you how to use your body's energy to create health, happiness, and peace through our unique exercise classes and one-on-one healing sessions.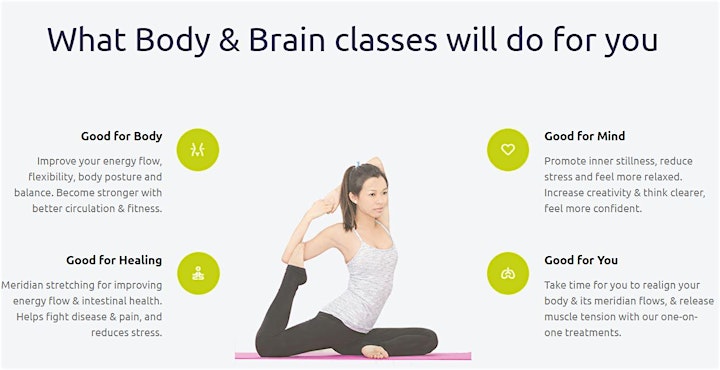 What Body & Brain Yoga classes will do for you
Good for Body
Improve your energy flow, flexibility, body posture and balance. Become stronger with better circulation & fitness.
Good for Mind
Promote inner stillness, reduce stress and feel more relaxed. Increase creativity & think clearer, feel more confident.
Good for Healing
Meridian stretching for improving energy flow & intestinal health. Helps fight disease & pain, and reduces stress.
Good for You
Take time for you to realign your body & its meridian flows, & release muscle tension with our one-on-one treatments.
Body & Brain Classes
1. Meridian Opening
2. Qigong (DahnMuDo, Taichi)
3. Detox Exercises
4. Dynamic Meditation
5. Privatie Healing Lessons
6. Online Daily Ruglar Class