Sales Have Ended
Ticket sales have ended
Cancellations Note, all cancellations received after……….. 2016 will incur a $NZ150 administration fee. Any refunds after this date will be at the discretion of the APT Solutio.nz. For more information contact APT Solutio.nz M: + 021 2993281|E: rob@aptsolutio.nz
Sales Have Ended
Ticket sales have ended
Cancellations Note, all cancellations received after……….. 2016 will incur a $NZ150 administration fee. Any refunds after this date will be at the discretion of the APT Solutio.nz. For more information contact APT Solutio.nz M: + 021 2993281|E: rob@aptsolutio.nz
Description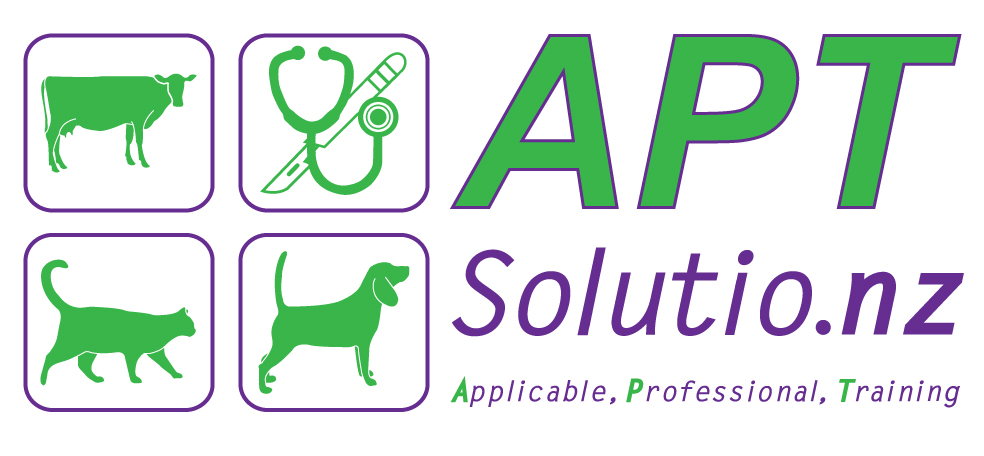 Our vision at APT Solutio.nz is to deliver
Applicable Professional Training solutions to veterinary surgeons in New Zealand.
We are proud to present to you:
Bovine Surgery: Surgery of the GI and Reproductive Tract
Training day programme
Perioperative prevention of infection
Perioperative infection is a common and challenging complication of surgery in the field in New Zealand. During this session we will discuss the factors that contribute to the risk of perioperative infection, and steps that we may take to minimise this risk. Patient and "surgeon" preparation, and the use of perioperative antibiotics and its limitations will be discussed. Alternatives to systemic antimicrobial use in selected cases will be introduced.
Perioperative pain management & analgesic methods
The prevention and minimisation of pain in food animals is an important welfare concern. We will discuss approaches to perioperative pain management. This will include choices for parental drug administration, regional and local anaesthetic techniques. Choices for or pain management will range from the simple common sense approaches to more complex options.
Surgical approaches to the abomasum and rumen
For this session will discuss indications for surgical exploration of the bovine abdomen. Options and techniques for the correction of left and right displaced abomasum will be described and compared. The audience will be invited to share their experiences with the several different approaches. Exploratory investigation of the rumen for the removal of grain in overload cases, hardware and foreign bodies will also be described and discussed. Considerations for fluid therapy will also be introduced. This session will include the use of a life-sized model of the cow.
Surgical approaches to the small intestine, large intestine and colon/ rectum
For this session will discuss indications for surgical management of conditions of the small intestine, large intestine and colon/ rectum. We will focus on the more common problems that encountered and the challenges of surgical correction in the standing bovine. Basic techniques including biopsy, wedge resection, and anastomoses will be introduced. This will include surgical correction of atresia recti and rectal prolapse.
Surgery of the calf abdomen
Surgical treatment of abdominal problems in the more valuable calf can frequently be managed in the field provided they can be performed under basically hygienic conditions. We will focus on more common procedures, starting with simple hernias, and moving to the surgical management of more severe umbilical infections and patent urachus. Field restraint and anaesthesia of the calf will be discussed.
Surgery of the bovine reproductive tract
This session will primarily focus on surgery of the female reproductive tract, and some basic procedures on the bull penis. The common surgical reproductive challenge of a caesarean section will be discussed and demonstrated using a life-sized model of the cow. This would be followed by a brief discussion of that vaginal surgery in the cow. Some more common problems of the bull penis and their surgical correction will be discussed as time permits (including a hands-on activity).
Bovine surgical potpourri - techniques and "cool" cases
Options and in this session will spend a small amount of time on a number of different techniques including liver biopsy, treatment of ocular neoplasia, and other subjects of interest. This session will include sharing a number of interesting food animal cases that we have worked on over the last few years. Participants are invited to bring their cases or recollections for discussion in this informal forum.
Ensure that your continuing veterinary education is APT.