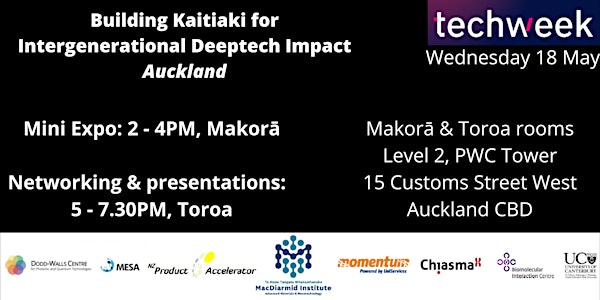 Building Kaitiaki for Intergenerational Deeptech Impact - Auckland
Event Information
Location
Makorā Room, Level 2 PWC Tower
15 Customs Street West
Auckland, Auckland 1010
New Zealand
Collaborative tech disruptors from across the science and tech sector brought together with research and development intensive companies
About this event
We are showcasing the value of science-based commercial activity to enhance New Zealand's economic performance including via research and development at start-up and mature company levels.
We are focussing on rangatahi as the future of both science and industry performance and will include a range of dynamic speakers in a brief speaker line-up for the evening.
PROGRAMME:
2-4PM Drop-in Mini Expo - The afternoon session is aimed at school and student audiences, for science students to engage directly with companies to discuss a career in science inspire rangatahi (young people) to become the next generation of deep tech innovators.
*5-7.30PM (TICKETED) Networking & Presentations - With a focus on rangatahi as the future of both science and industry performance, this evening will include a range of dynamic speakers for quickfire presentations.
*NB: The evening networking portion of the event requires registration via Eventbrite for catering and capacity purposes.
SPEAKERS:
Taniela Lolohea, AUT - Surface coatings, plasma technology
Innovating novel approaches to surface coatings using atmospheric plasma jet technology, specifically radio-frequency pulsed plasma jets towards bioprinting, controlled plasma reactions, and metal ink jet printing . Atmospheric plasma jets offer a unique plasma reactive medium to deposit materials quickly, with little waste, incorporating functional groups, and offering reactive environments for materials to interact with. Taniela is interested in developing his understanding of the interaction between plasma species and the material to be printed, to produce functional surface coatings with desirable properties.
Imche Fourie, Outset Ventures - Co-founder and CEO
Imche thrives at the intersection of deep technology commercialisation, venture capital, and community building. Her career started out in the laboratory researching neurodegenerative diseases but has since navigated through life sciences consulting, research commercialisation, and venture capital before co-founding Outset Ventures (then LevelTwo) four years ago. An insatiable curiosity and a love of community sit at the heart of everything she does, and she is passionate about backing inquisitive people with big ideas.
Dr Laura Domigan, University of Auckland - Chemical and Materials Engineering
Laura Domigan joined the Department of Chemical and Materials Engineering in 2019. Prior to this she was a Research Fellow and Lecturer in the School of Biological Sciences (2015-2019). She received both her BSc (Hons) (2008), and PhD in Biochemistry (2012) from The University of Canterbury. Following this she was a Post-doctoral Fellow in the Department of Biomedical Engineering at Tufts University (Massachusetts, USA).
Dr Humphrey Feltham, Research Chemist
Dr Humphrey Feltham has been a member of the chemistry team at Ligar Limited Partnership since 2019, helping to develop polymers for the separation of valuable or unwanted compounds from solution.
Before moving to Ligar, Humphrey earnt his PhD in chemistry from the University of Otago in 2012, working on the synthesis and characterisation of materials with interesting magnetic properties. He then continued to work at Otago as a researcher, studying the attachment of nano-scale materials to surfaces and catalysts for hydrogen production.
Further speakers to follow...
The collaborators hosting the event are:
· MacDiarmid Institute
· Dodd Walls Centre
· New Zealand Product Accelerator
· University of Canterbury Biomolecular Interaction Centre
· Momentum Committees
· CHIASMA
· MacDiarmid Emerging Scientists Association (MESA)
Date and time
Location
Makorā Room, Level 2 PWC Tower
15 Customs Street West
Auckland, Auckland 1010
New Zealand