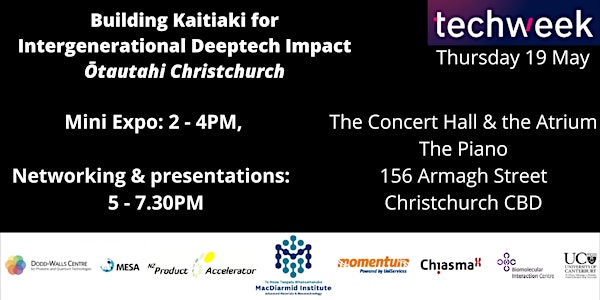 Building Kaitiaki for Intergenerational Deeptech Impact - Christchurch
Event Information
Location
The Piano: Centre for Music and the Arts
156 Armagh Street
The Concert Hall & the Atrium
Christchurch, Canterbury 8140
New Zealand
Collaborative tech disruptors from across the science and tech sector brought together with research and development intensive companies
About this event
We are showcasing the value of science-based commercial activity to enhance New Zealand's economic performance including via research and development at start-up and mature company levels.
We are focussing on rangatahi as the future of both science and industry performance and will include a range of dynamic speakers in a brief speaker line-up for the evening.
PROGRAMME:
2-4PM Drop-in Mini Expo - The afternoon session is aimed at school and student audiences, for science students to engage directly with companies to discuss a career in science inspire rangatahi (young people) to become the next generation of deep tech innovators.
*5-7.30PM (TICKETED) Networking & Presentations - With a focus on rangatahi as the future of both science and industry performance, this evening will include a range of dynamic speakers for quickfire presentations.
*NB: The evening networking portion of the event requires registration via Eventbrite for catering and capacity purposes.
SPEAKERS:
Nick Jackson, CTO - Pyper Vision
Nick Jackson is the CTO at Pyper Vision, he joined Pyper Vision in 2018 through his final year project at Canterbury University. In Nick's role he manages all of Pyper Vision's research and development, health and safety, outdoor trials and regulatory compliance.
Nick is an engineering graduate from UC with a BE(Hons) and ME in Chemical and Process Engineering. Outside of Pyper Vision, Nick loves the outdoors whether it be snowboarding, hiking or ultramathron running and also works with the sustainability focussed start-up Spout Alternatives.
Matt Cowan, Chemical Engineering - University of Canterbury
I'm Matthew Cowan is a senior lecturer at the University of Canterbury. I have worked in the USA and France on industrial‑academic collaborations with companies including TOTAL, 3M, and Solvent Rescue. My main research focus is increasing the energy-efficiency of gas purification processes and technologies. Interesting side project include developing ultra-lightweight bullet-resistant composites, recycling processes for treating stockpiles of industrial chloroform waste, and developing safety-related board games to improve organizational culture. Non-academic projects include authoring the children's book Because I Cleaned My Room and the sci-fi/fantasy novel Rogha.
Maryam Shojaei, MacDiarmid Alumna
Originally from Iran, Maryam moved to New Zealand in 2017 to pursue a PhD in Chemical & Process Engineering at the University of Canterbury. Maryam's passion involves using science to bring visions to life. During her 5 years living in New Zealand, she has conducted research in academic, industrial and start-up environments. She was part of the Research and Development team at Resene Paint Ltd helping to develop coating formulations for innovative applications such as antibacterial paints and impregnating wood stains. Afterwards, she joined the University of Canterbury as a researcher to investigate innovative approaches in carbon-felt production. In the meantime, she became a member of the Three Waters team at the Christchurch City Council.
Alyce Lysaght, Graduate Water Engineer - WSP
The collaborators hosting the event are:
· MacDiarmid Institute
· Dodd Walls Centre
· New Zealand Product Accelerator
· University of Canterbury Biomolecular Interaction Centre
· Momentum Committees
· CHIASMA
· MacDiarmid Emerging Scientists Association (MESA)
Date and time
Location
The Piano: Centre for Music and the Arts
156 Armagh Street
The Concert Hall & the Atrium
Christchurch, Canterbury 8140
New Zealand