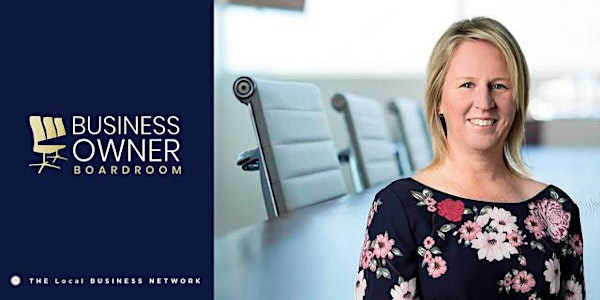 Business Owner Boardroom - Navigating the Current Trading Environment
What can you do to safely navigate the current trading environment… how to move from rescue to recovery…and beyond.
About this event
As many business owners move into a recovery and innovation phase post the initial COVID-19 impact, attention is turning to how to strengthen and prepare for a changed future. Business leaders that plan to do better than merely "getting back to normal" will need to take a strategic approach to thrive in a changed landscape.
Common themes amoungst business owners include:
dealing with uncertainty and disruptions makes it difficult to implement for real change;
it's taking longer to recoup, cashflow is strained..;
finding the time to work ON the business is a struggle
BUT
You know you have a good business, you're just not quite sure how to get it to the next level.
If that sounds like you, come along to my next Business Owner Boardroom session where we will be working on exactly these types of challenges (and opportunities!)
Here's some of what we're going to be working on:
1. We'll start with the "4 Futures of Business" model for you to plot your current business course, and then unpack what you're "Ideal Business" would look like.
2. We'll design the ideal Income and Freedom that you're looking for, and then look at where you might want to grow the business.
3. Ever heard yourself saying one or more of the following? "I need more work".
"I need more help" "I need more money" ? Our focus will turn to the key projects to overcome these.
4. There are 3 key areas where money is made or lost in a business; Sales & Marketing, Margins and the People in the business. We'll spend time on each of these so that you can choose which is most relevant to you.
5. The 9 Projects: My favourite way to help business owners make the biggest improvements quickly is to break the 3 key areas into 9 Projects. From the workshop you'll have a clear step by step plan of what needs working on in your business to get results fast
6. "$20k Problems" are the problems that need fixing. Smaller than $20k for some businesses... bigger for most! You'll be able to discover your own $20k problems to solve during the workshop. You can even total them up!
Any one of these things can move the needle immediately for your business, and my experience is that ONE of these is going to resonate with you and stand out as the BIG opportunity for you specifically.
The workshop will run for 90 minutes and is free to attend. You are also welcome to bring a business buddy!