Sales Have Ended
Ticket sales have ended
Congratulations! You're all signed up for the BizEzi Blitz - we can't wait to help you take your business to the next level!
Sales Have Ended
Ticket sales have ended
Congratulations! You're all signed up for the BizEzi Blitz - we can't wait to help you take your business to the next level!
The ultimate Business Plan Hack... explore your Business Model, financials and more to create a more sustainable business!
About this event
Are you completely confident about where your business is headed? Fancy the idea of creating a comprehensive Business Plan in eight hours? Do you want a Business Plan that you will actually use?
The B!zezi Business Plan Blitz:
Join us for two half days (9th November and 12th November) from 9am -1pm on both days via a live Zoom webinar to explore your business model, financials and more to create a more sustainable business! The B!Zezi Blitz is brought to you by B!Zezi and the PopUp Business School Aotearoa.
This workshop will be interactive and hands-on so you, as a business owner or startup, can define:
Who is your customer, really?
What market segments are more likely to build and grow your business?
What is your business model? Does it need to change?
What or where are your business risks?
What are your personal (business owner) income needs?
Where are your revenue streams - do you have more than one and are they suitable for a post-covid world?
What is validation, why is it critical, and how can you build it in?
A Business Plan is a jigsaw that, once pieced together, gives you, the business owner as well as potential lending institutions, investors or funders, a complete picture of what you're about and how everything fits together.
Do you think of a Business plan as a large and unwieldy document ?
In this Business Plan Blitz we gameify the process, breaking it down into manageable parts starting with your SWOT analysis and business model. Through the workshop you will simply and easily create a Business Plan that you will actually use!
Limited numbers so SIGN UP NOW for BLITZ, 'a sudden concerted effort to deal with something' and work on putting together your Business Plan
Important Stuff.
Included in the price is full access to the B!Zezi web application.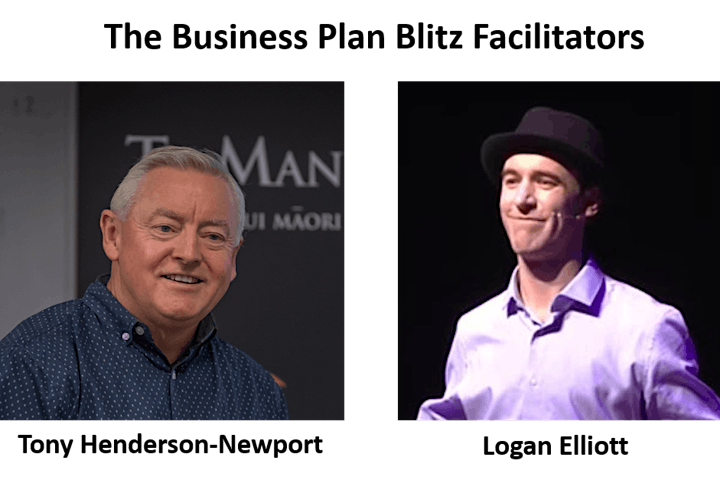 Tony Henderson-Newport
Tony is Chief Kiwi and founder of PopUp Business School Aotearoa, Kea Inspire, B!Zezi and Semaine Group. A Kiwi to the bone, Tony spent many years living in the UK, returning to New Zealand in 2014. Tony is a business coach and mentor with a specific interest business sustainability and how an individual or business core message can be communicated. Tony also teaches entrepreneurship and the Art of Pitch at universities and business programmes in New Zealand and overseas. Tony also works with start-up and stay-ups having also worked in the IT space on projects and programmes in New Zealand, the United Kingdom and Europe. He has spoken at Westminster through his work with CEO's in the UK and been to an audience at No 10 Downing Street for his work in raising funds for charities in the UK. He is passionate about all things Kiwi and has been delving into what makes up the Kiwi DNA... in other words, "what makes a Kiwi tick?"
Logan Elliott
Christchurch born; Logan first studied Biotechnology and genetics at the University of Otago, as he was passionate about science and technology. After completing a masters in entrepreneurship Logan co-founded 'Highly Flammable' - a New Zealand wide creative entertainment company with Fire Dancers, Stilt Walkers and wacky characters including the incredible 'Mirrorman'. In 2017 he created 'Volcano Retreats' and brings together entrepreneurs from around the world to remote volcanic locations such as the beautiful island of Stromboli in the mediterranean. Logan also teaches entrepreneurship at universities and business programs around New Zealand to help the next wave of entrepreneurs to change the world. And yes, he can literally breath fire...
Date and time
Location
Refund policy
Organiser of B!zezi Business Plan Blitz
B!zezi has been two-year journey to create a bridge to cross the divide between the small business owner, the entrepreneur… and those requiring a business plan… the banks, the investors, the philanthropists and the suppliers. Bizezi gamifies the business plan.
The end game is to provide the business owner with a business plan they can polish… not one they have to start from scratch.
Importantly, it is also about giving the business owner a deeper understanding of their business by understanding their business model and the impact that knowledge has on the evolution of a solid and robust business plan.
B!zezi was born in Wellington, New Zealand.