Cafe Scientifique & NZFSSRC Hidden Dangers in Food Safety
Description
Don't miss this unique opportunity to hear world expert, Dr Robert Tauxe, talking about the hidden dangers in our food – from water, food and fungus. This is a free public talk brought to you by the New Zealand Food Safety Science & Research Centre.
Rob is Director of the Division of Foodborne, Waterborne and Environmental Diseases at the Centers for Disease Control and Prevention, Atlanta, Georgia.
To reserve a seat, email info@nzfssrc.org.nz or on Eventbrite.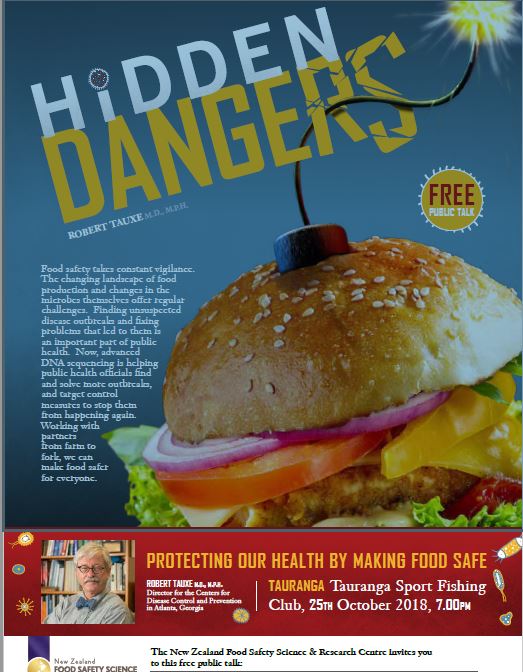 Dr. Robert Tauxe is Director of the CDC Division charged with prevention and control of foodborne, waterborne and fungal infections. The Division monitors the frequency of these infections in the United States, investigates outbreaks, and develops strategies to reduce the disease, disability and deaths that they cause.
He graduated from Yale University in 1975, and received his medical degree from Vanderbilt Medical School. He completed an internal medicine residency, trained at CDC in the Epidemic Intelligence Service, and joined CDC staff in 1985. His interests include bacterial enteric diseases, epidemiology and pathogenesis of infectious diseases, epidemiologic and clinical consequences of bacterial genetic exchange, antimicrobial use and resistance to antimicrobial agents, and teaching epidemiologic methods. His faculty appointments include the School of Public Health and the Department of Biology at Emory University, Atlanta. Dr. Tauxe has written/co-authored 294 journal articles, letters and book chapters.
Remember:
Different venue - Tauranga Sport Fishing Club

Doors open at 6:30 for 7pm start.

This event is free - sponsored by NZ Food Safety Science & Research Centre