Covid has created a lot of uncertainty and now more than ever businesses want to know they are protected for the future.
About this event
For many businesses, a dip in profitability has us keen to generate more income and protect what we have. This webinar will help you generate profit and peace of mind in your small or medium-sized business.
Check in with our experts to health-check your business and plan your next steps, so you can:
Stop leaking profit
Improve your bottom line
Protect your business against uncertainty
Who should attend
This free education webinar is for business owners who want to:
improve the profitability of your small or medium sized business
look after your family and prepare for the future
create a plan to achieve or exceed your financial goals
future-proof against Covid and other unpredictable outcomes
Our speakers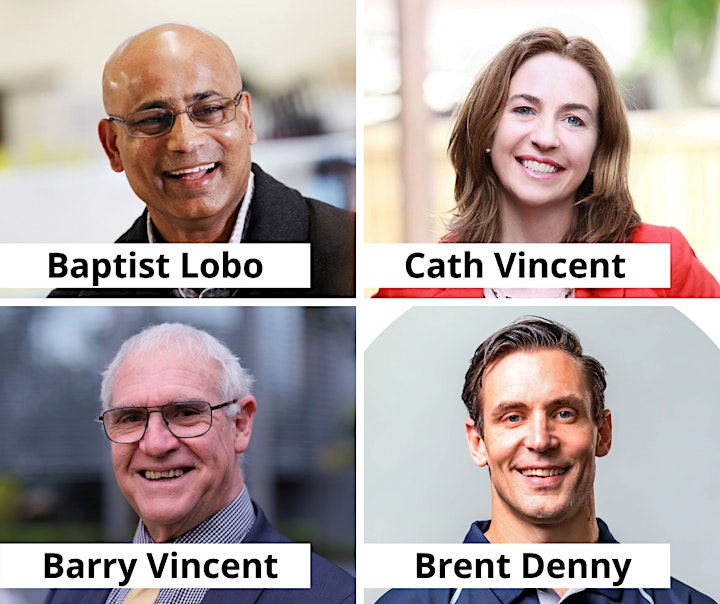 Baptist Lobo is the frontman of Tax Advantage, and his many years of professional experience in technical and financial accounting as well as commercial management and reporting have culminated in a businessman who is passionate about solutions that work for the whole –- businesses and individuals. Baptist is involved as a volunteer in regular community events and activities.
Barry Vincent has had over 40 years' experience in running businesses. Over that time, he has made a lot of mistakes in what has been a rollercoaster ride -- including company liquidation and personal bankruptcy. He is passionate about helping other business owners avoid the pitfalls that he has fallen into.
Cath Vincent is a Business Improvement Advisor with Prime Strategies, helping small- and medium-sized businesses to stop leaking profit. An SME herself, she is the owner of Studio 38, a 50-seat event space and recording studio in Auckland Central. She is also an award-winning conference speaker and TV host.
Brent Denny is a senior commercial broker and director of Coversure fire and general. Prior to establishing the fire and general division at Coversure, he held senior management and sales roles in both Insurance companies and in an Insurance brokerage. Brent holds a level 5 certificate in financial services and a Bachelor of Commerce from the University of Canterbury.