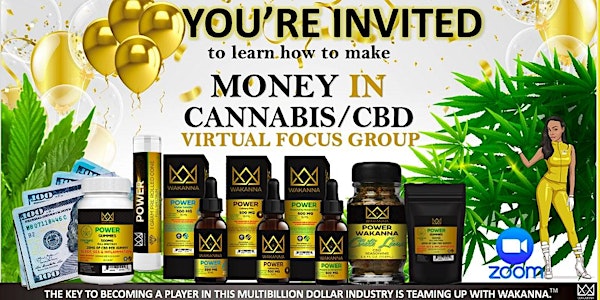 CBD Information and Business Opportunities
MOVED TO ONLINE Join us on our live webinars are every Tuesday night 9 pm EDT / 8 pm CST
About this event
MOVED TO ONLINE
Join us on our live webinars are every Tuesday night 9 pm EDT / 8 pm CST
You will receive a calendar invite to the email address provided in this registration. Accept calendar invite from me Ora Witherspoon email Hemph2hands@gmail.com to receive webinar link, passcode and updates as they occur. Check your SPAM/JUNK folder
CBD & Medical Marijuana are changing the world. Cannabis is going mainstream and wealthy businessmen and well-known politicians are cashing in big on this financial tsunami.
We need to educate ourselves on the power of the CBD industry and learn how this plant has multiple uses to improve health and wealth. Get healthy without the high.
Our break is over but we are gearing up for the new year and new challenges, the team has grown and we are taking the next step. Are you ready for 2020? Are you in the PA / DE / NJ area? Business building training will start again all online.
The CBD industry will be worth billions in just a few short years. As of now, there is no clear market leader. We are starting 2020 with monthly training and information to aspiring entrepreneurs who are eager to compete in this growing industry. This program is an opportunity to gain market share and build in the CBD industry. We have added weekly virtual parties for infusing, hair care, cocktails and more.
For many years, cannabis had been criminalized. Come capitalize on an industry that has criminalized the use of this plant that is intended to help increase wellness and wealth. Our proprietary program includes lessons and strategies to launch a successful online business. Those on our team will have access to training including:
• Company Certification
• Free Website
• Social Media Training
• Free Support
• A network of people who have succeeded
• .....plus more
This is not medical marijuana. A medical card is not needed but you must be 21 years of age.
Live webinars are every Tuesday night 9 pm EDT - 8 pm CST
Request to join our teams Facebook group here indicate Beatrice Foster sent you https://www.facebook.com/groups/CBDforLifeHealthandWealth/
Connect with me here. https://www.facebook.com/DOINGMEPERIOD/
Not the entrepreneur but need trusted high-quality CBD products shop here. https://hemphands.wakanna.com/
Ora Witherspoon Email: Hemp2hands@gmail.com
___________________________________________________________________________________________________
# Soaps and #CBD #organiccbd #cbdforpainrelief #cbdbusiness #blackwallstmovement #cbdhemp #cbdeducation #cannabis #cannabiscommunity #wakanna #cannabisculture #cbdlife #cbdvape #cbdhealth #cbdprerolls #cbdmovement #blackowned #busymom #determined #develop #binkysvape #igotthis #motivationalmoment #presson #purpose# Body cream#shopsmall#workingmom #cbdandwomen #womensandcannabis
These statements have not been evaluated by the FDA. This product is not intended to diagnose, treat, cure or prevent any disease.