Description
Turning plastic waste into the future of transport with Ira Munn of Ierospace Industries
The next event by PDMA-NZ (Product Development & Management Association NZ) & NIP (Newmarket Innovation Precinct)


At PDMA-NZ we believe New Zealand can be an example to the world in sustainable growth and innovation practices. A company that shares this belief is Ierospace Industries led by Ira Munn.
Ierospace Industries is developing 3D printed electric vehicle kits using upcycled plastics. Their present effort is the Drop, a single-seater, weather-protected, three-wheeled, motorway-legal electric vehicle kit buildable in less than twenty person hours with an estimated range of over 321km (204 miles) that's making news around the world.

Ira Munn has presented a TED talk on the Drop 3D-printed electric vehicle. New Zealand's first 3D-printed electric car is being built in Otaraand Ira an Entrepreneur engages New Zealand's Youth While Developing the 3D Printed Electric Car.
Energise your Tuesday night, join us and learn more about Ierospace's idea of changing the world, one drop at a time.
Event schedule
5.15 pm - 5.45 pm Registrations
5.50 pm - 6.00 pm Introduction to PDMA and NIP
6.00 pm - 6.30 pm Ira Munn
6.30 pm - 7.30 pm Networking and nibbles

Cost
PDMA-NZ members $0*
Non-members $25
Non-member students: $10

* To become a PDMA member, go to http://pdma-nz.org/membership/
Join our database free to get emails about upcoming events at: www.pdma-nz.org
Connect with us on LinkedIn: https://www.linkedin.com/groups/77069/
Location & Parking
On-site after-hours free visitor parking is available on a first-come-first-served basis from 5pm via Gate 3, Khyber Pass Rd see MAP. (Please use the intercom button at the Gate to request access for the event if the barrier arm is down.)
Use pedestrian walkways/crossing to access the main Reception Building 902 (entry level 3), directly across from the main car park. The event will be held in the Seminar room, up one floor from the main reception area, please see directional signage on the night. Access available via lift and stairs.

Additional event parking (if required) is also available from Secure Park situated off Suiter Street, see MAP. Please pre-book your parking for the event via the online booking system.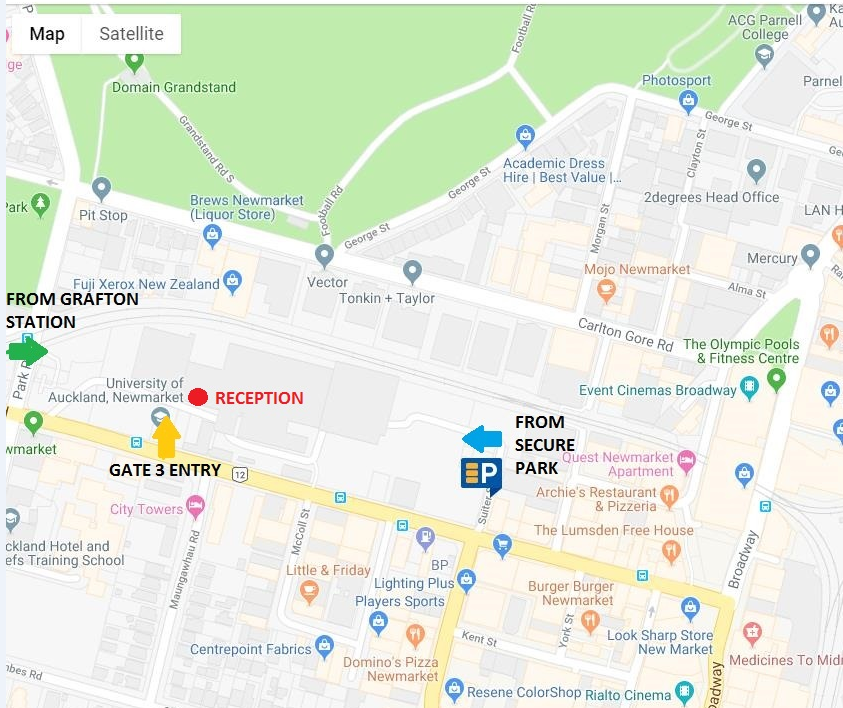 We look forward to seeing you soon!

PDMA-NZ Team