Location
Generator @ GridAKL
12 Madden Street
Auckland, Auckland 1010
New Zealand
Refund policy
Refunds up to 30 days before event
Description
The first ever Circular Economy Summit in Aotearoa is a collaboration between the SBN's Circular Economy Accelerator and WasteMINZ.
This one-day summit brings together international and local circular economy experts and practitioners with key decision makers in the NZ economy. Together we will set a course for New Zealand's transition to a world-leading circular economy.
The summit is not only a chance to gain new knowledge and business intelligence from some of the world's leading circular economy thinkers but also to explore new business opportunities and partnerships.
Who is speaking?
Leading speakers include:
Prof. Dr Michael Braungart
EPEA Internationale Umweltforschung Hamburg,
Leuphana University Lüneburg
Michael Braungart is CEO of EPEA, Environmental Protection and Encouragement Agency in Hamburg (Germany), 'The cradle of Cradle to Cradle' and professor at the Leuphana University Lüneburg. He is also co-founder of McDonough Braungart Design Chemistry (MBDC) in Charlottesville, Virginia and founder of the Hamburger Environmental Institute (HUI). For decades, Michael Braungart has pioneered the Cradle to Cradle design concept.
Shamubeel Eaqub
Economist and business commentator
Shamubeel Eaqub is an experienced economist who makes economics easy. He is also an author, media commentator and thought leading public speaker. He has over a decade of experience as an economist in Wellington, Melbourne and Auckland in leading international banks and consultancy.
Paul Frasca
Co-Founder and Director of Sustainable Salons
Paul Frasca started his hairdressing career at the age of 11. He was a salon owner by the age of 19. In 2015 Paul co-founded an innovative circular economy program called Sustainable Salons Australia. SSA collects up to 95% of a salon's waste and repurposes it for environmental and community benefit. Following runaway success in Australia, Sustainable Salons has now brought its unique model to New Zealand. Paul is also a director for The Australian Hairdressing Council where he is responsible for improving the industry's environmental practices.
Who should attend?
The summit is designed for businesses and organisations who want to find out more about the circular economy, understand how they can take advantage of the substantial economic opportunities it provides, be at the forefront of the economic change, and help accelerate our nation's transition to a more circular model.
What is a circular economy?
A circular economy is one where the lifecycle of materials maximised, usage optimised, and at the end of life, all materials are reutilised. It is restorative by design and underpinned by the use of renewable energy.
Why do we need a circular economy in Aotearoa?
We're using the Earth's natural resources faster than they are being replenished, so we need an alternative to the take-make-waste linear model of doing business. The circular economy, by decoupling economic growth from resource use, offers a scalable model to start to operate within the limitations of the planet recognising that resources and materials are not limitless in supply.
Our sponsors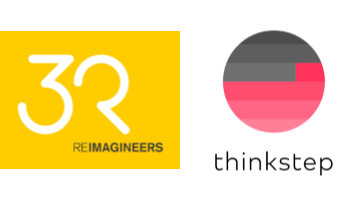 Thanks to 3R Group and thinkstep, our summit partners
Event alterations: WasteMINZ in its sole discretion reserves the right to alter, change, amend or remove portions of the summit programme. Such alterations are not grounds for cancellation of attendance.