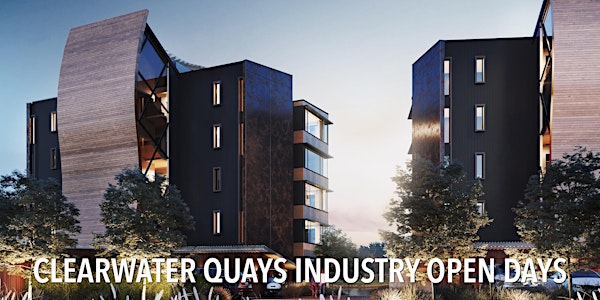 Clearwater Quays - Industry Open Day
Location
Clearwater Quays Apartment building site
Rotoiti Lane
Christchurch, 8051
New Zealand
This is a FREE event for developers, investors and practicing building and construction professionals.
About this event
You are invited to register to attend an industry-only open day and site visit to an innovative new engineered wood apartment building under construction. The project, part of a Ministry for Primary Industries (MPI) / industry partnership is a 5-storey (10 apartment) demonstration building combining cross laminated timber floors and stairs, a novel moment-resisting laminated veneer lumber portal frame system and prefabricated walls. Choose from either of the two site tour dates. Limited spaces available.
Program Presentation Content:
Overview of the Mid-rise programme
Overview of the build, structural design, acoustic, fire, challenges overcome, cost-comparisons and Embodied Carbon calculation and comparisons.
Both dates will be running the same workshop.
1:00pm Site Visit: Clearwater Quays building site, Rotoiti Lane, Clearwater Resort, Christchurch
2:15pm Presentation + Q&A: Peppers Clearwater Conference Rooms, Clearwater Avenue, Christchurch
Marty Verry Red Stag Investments
Marty is Group CEO of Red Stag Timber & Investments and the driver of the government-industry partnership to showcase engineered wood in commercial and multi-residential building - the Ministry for Primary Industries Provincial Growth Project for Mid-Rise Wood Construction initiative. The programme aims to encourage the use of New Zealand grown timber, mainly in the form of engineered timber products particularly cross laminated timber (CLT) panels, in the construction of mid-rise buildings using pre-fabrication. Red Stag runs the country's largest sawmill and CLT factory.
Marty has conceived and brought this vision to reality by working in partnership with industry 'Collectives of Excellence' to design and build Clearwater Quays - the 5-level apartment development at Clearwater Resort Christchurch.
Mike Newcombe, Director and Engineer, Enovate
Mike has a masters from the European School for Earthquake Engineering and a Doctorate in the design of multi-storey timber buildings. His recent professional experience includes over two years as general manager of an Auckland-based structural engineering office, designing and reviewing numerous residential, industrial and commercial structures.
Mike is sought after as a timber technology expert by a broad range of clients and teaches timber engineering at professional seminars. Mike's roles within Enovate are business development, structural design and review of new residential, commercial and educational projects, and the design and development of alternative structural systems.
Barry Lynch, Director / Chartered Quantity Surveyor, Logic Group
Barry is a Chartered Quantity Surveyor with 20+ years' experience in commercial, pharmaceutical and residential construction. Barry led the design stage cost estimation and budgets for this project and supervises the QS team delivering the construction stage financial controls.
Barry's team used innovative Building Information Modeling (BIM) / Virtual Design Construction to develop a parametric digital twin BIM model for Clearwater. This quantity surveying (QS) cost model is a new innovative approach to cost estimation adding value though clash detection, design audit and methodology development. It is scalable to all project sizes and provided at no additional cost to the project. The QS team also use other technological approaches to track the project, including AI financial control software, drone and cloud point surveys.
Sam Cadden, Director, Logic Group
From his strong technical background, Sam approaches projects in a disciplined, systematic and considered manner. He and his teams work from project conception to ensure the correct systems, procedures and overall governance is adopted. He is always focused on the delivery of exceptional project results for his clients.
Phil Tomkins, Site Project Manager and Licensed Building Practitioner, Construction Solutions Central
Phil is a self-employed Project Manager. He is regularly engaged by a wide range of project management and building construction companies for working on anything from asset management plans right through to maintenance on existing dwellings.