About this Event
IT'S WELL RECOGNISED that the time for debating climate change is over, and the time for urgent mitigation and adaptation action is now. But the big question for many is, where do we start? How do we begin?
Together with a line-up of dynamic speakers, we'll explore these pressing issues and generate ideas that we can put into effect in our Tai Tokerau communities.
NEED INFORMATION? Contact:
Catherine Murupaenga-Ikenn
E: cmurupaenga-Ikenn@northtec.ac.nz
Mob: (020) 41636562
Ph: (09)470 3600/ (0800) 808 856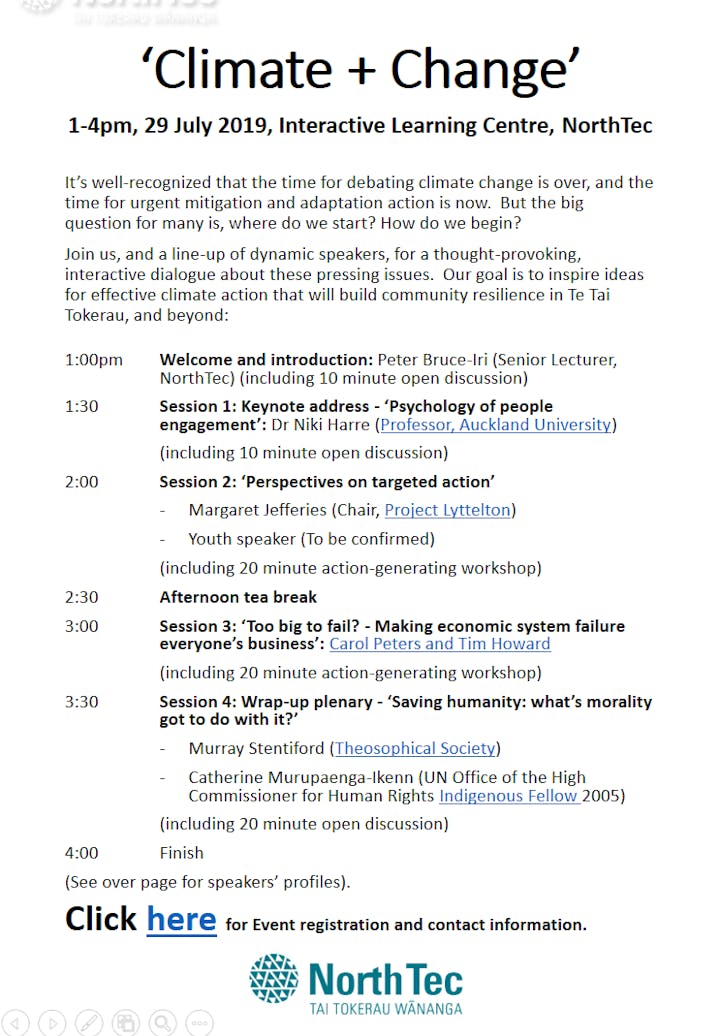 SPEAKERS PROFILES
Peter Bruce-Iri
Born and bred in Northland, Peter (an organiser of this event) is a foundation member of Local Food Northland and Trustee of the Climate Change Taitokerau Northland Trust. His keen interest in sustainability led Peter to a career in horticulture working on an orchard and bamboo nursery in the Far North before moving to nursery work and in amenity horticulture. He later began teaching horticulture and then management at NorthTec. Currently Peter is a Senior Lecturer in Northtec's Business Management Programme with a research focus on sustainable food systems.
Dr Niki Harre
Niki is Associate Dean Sustainability in the Faculty of Science, and Professor in Psychology, at Auckland University. Her research focus there its in the area of community psychology and the psychology of sustainability. She authored Psychology for a Better World (2011) which explores strategies to inspire sustainability, and currently is investigating the creation of a 'sustainability culture' at Western Springs College.
Margaret Jefferies
Margaret is the Chair of Project Lyttelton which – as a portal for a range of community initiatives to build a vibrant sustainable community - played a significant role in the Christchurch earthquake recovery. A graduate in geography, music, education and teaching, Margaret is known for introducing the concept of TimeBanking to New Zealand. She is a public speaker, mentor, facilitator, networker and also a board member of Living Economies Educational Trust. With a wealth of skill and experience gathered over many years raising a family of five, and grandmother of eight, Margaret maintains a focus on values, and thinking globally but working locally.
Youth Speaker (to be confirmed)
Carol Peters
Carol (QSM) has a PhD in community-led development. She lives at her family avocado orchard, Whangārei. 
Carol's early career spanned various sites around the world working with refugee communities, and establishing a Montessori School in Singapore. In 1986 she returned to NZ, working with Auckland youth and helped to establish a Tongan language nest and 3 community arts centres. In 1992 Carol established Whangārei's One Double Five Community House offering legal, whānau and community development support.  She's gone on to help create a multitude of other community initiatives such as the Taitokerau Emergency Housing Charitable Trust, Food Rescue Northland / Whakaora Kai Taitokerau, and the Climate Change Taitokerau Northland Trust.
Tim Howard
Tim has worked in Aotearoa and the Pacific in education, social justice, solidarity with indigenous peoples. Particular international involvements have been as an ally with people's struggles Timor Leste, Philippines, Palestine, and - close to home - West Papua. Tim has worked for Northland Urban Rural Mission (NURM), based in Whangarei, since 1996. NURM is a church- and community-based group focused on a range of social justice, community development and environmental issues (including welfare, housing, mining, water), within a framework of Tiriti justice. He is also an active member of Network Waitangi Whangarei and national Tiriti educators' networks, and of Kotare Trust which provides participatory education enhancing Tiriti-based social change work of activist networks.
Murray Stentiford
Murray has held over the years several positions of voluntary and professional responsibility, in the education, science, engineering and Information sectors. He is a keen student of processes that enhance communication and well being, such as NonViolent Communication and Open Space. A professional musician in times past, Murray has a particular interest in local economies and complementary currencies because of the way they promote thriving, resilient communities.
Catherine Murupaenga-Ikenn
Catherine (an organiser of this event) hails from Ngāti Kuri and Te Rarawa. From Government Policy work and a stint as a solicitor in the 1990's, she went on to help her iwi negotiate and settle the Te Rarawa and Ngāti Kuri Historical Treaty Claims with the Crown (legislated in 2015). In 2005 Catherine was awarded the United Nations Office of the High Commissioner for Human Rights Indigenous Fellowship (Pacific region). For several years up until April 2018, Catherine was an iwi advisor on climate change, constitutional transformation and indigenous rights. She has held several trustee positions for her iwi governing boards and local schools, and is active across numerous citizen-based environmental and social justice movements and campaigns. Currently Catherine is a Trustee of the Climate Change Taitokerau Northland Trust, and a Business Tutor at NorthTec.