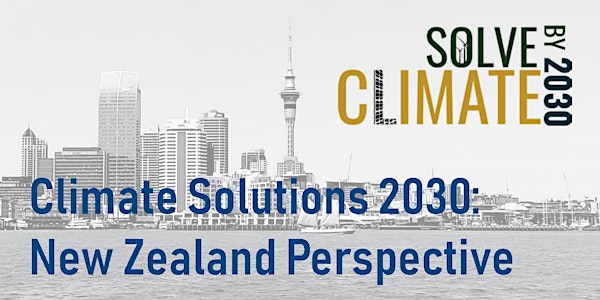 Climate Solutions 2030: New Zealand Perspective
A webinar focussed on big, doable things that need doing in New Zealand if we really aim to stop climate change
About this event
The Future Cities Research Hub of the School of Architecture and Planning of the University of Auckland joins the international initiative Solve Climate by 2030 developed by the Bard College's Center for Environmental Policy (USA) during which universities from around the globe organise a simultaneous 'global dialogue' webinar focussed on ambitious but feasible regional and local solutions to help solve climate by 2030. Our webinar will involve presentations by academics, students and government representatives. Speakers will identify three big, doable things' that need doing in New Zealand if we really aim to stop climate change.
Panellists:
Dr Stephen Knight-Lenihan, The University of Auckland, School of Architecture and Planning, Future Cities Research Hub: "Reducing emissions while preparing for the worst: how mangroves and coastal wetlands might help save us"
Elrond Burrell, Ministry of Business, Innovation and Employment: "MBIE's Building for Climate Change Programme: Mitigation Frameworks"
Dr Niki Harré, The University of Auckland, School of Psychology: "Inspiring people to get involved in climate action: three key approaches"
Robbie Anderson, Generation Zero UoA, The University of Auckland: "We are Generation Zero"
Moderators:
Assoc Prof Paola Boarin & Dr Alessandro Premier, The University of Auckland, School of Architecture and Planning, Future Cities Research Hub
NZIA CPD POINTS: 15
For more information please contact: p.boarin@auckland.ac.nz or alessandro.premier@auckland.ac.nz