Description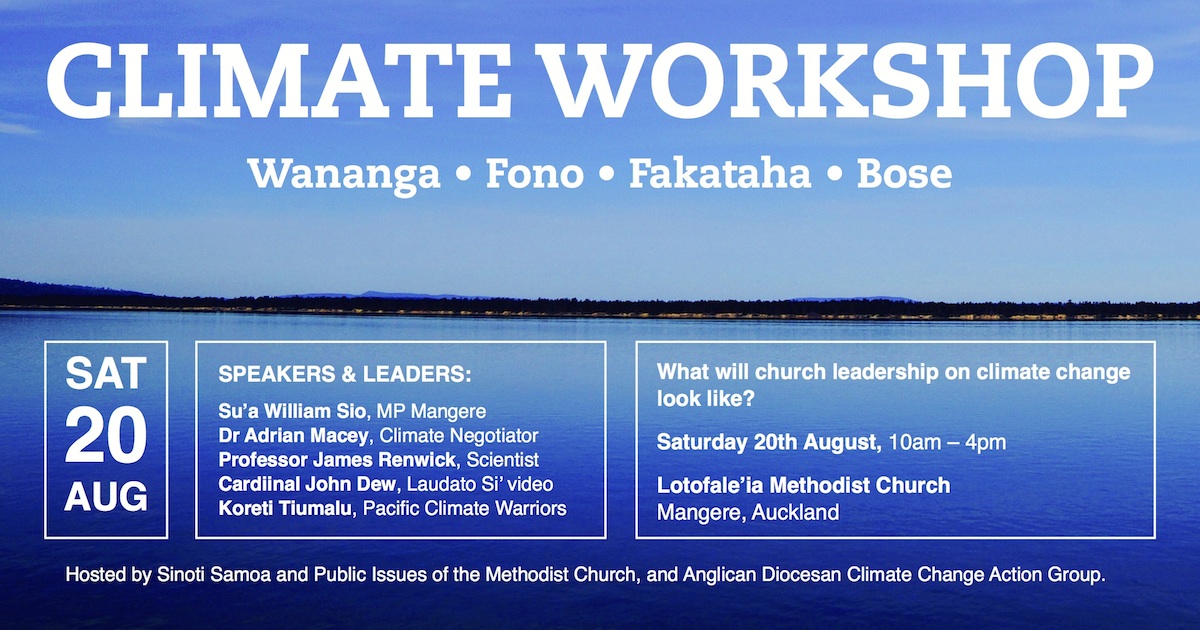 What will church leadership on climate change look like?
This event brings together church leaders, congregation members, and climate change experts to report on the exciting initiatives already taking place among churches in Aotearoa New Zealand and to envisage new avenues for learning, solidarity, and action.
Speakers & Leaders
Su'a William Sio, MP Mangere
Dr Adrien Macey, Climate Negotiator
Professor James Renwick, Scientist
Cardinal John Dew, Laudato Si' video presentation
Koreti Tiumalu, Pacific Climate Warriors
Hosted by Sinoti Samoa and Public Issues of the Methodist Church, and Anglican Diocesan Climate Change Action Group
We are pleased to offer subsidies for travel for people outside Auckland, thanks to a PAC grant. Numbers limited.
Please send inquiries to Betsan Martin:
021 388 337 or betsan@publicquestions.org.nz
Organiser of Climate Workshop
Global climate change is one of the most serious challenges to human civilisation, social justice and welfare in human history. There is compelling scientific evidence that recent changes in the global climate are due to human activity and that catastrophic consequences will ensue if atmospheric carbon levels continue to rise.
The Auckland Anglican Diocesan Climate Change Action Group (DCCAG) came together in February 2007. Its primary purpose is to help the diocese's churches and members move towards carbon neutrality by living more sustainably.