Clinical Skills Workshop: Understanding pharmacology in Palliative Care
Clinical Skills Series in Palliative Care: Understanding Pharmacology in Palliative Care
About this event
This clinical skills series (Total of 10 different workshops) aims to provide education that will refresh or upskill all health care professional and support workers supporting persons with palliative care needs. The education sessions provide learning which maintains and enhances participants specialist palliative care knowledge, skills and practice.
This workshop is open to all registered Health Professionals.
This is a clinically focused session to further health professionals understanding of pharmacological "Red Flags" in palliative care and how we can improve quality of life through effective medication management and communication.
Target audience: Registered Health Professionals
Facilitator: Annie Wallace, Nurse Educator Nelson Tasman Hospice
Date: Thursday 21 October 2021
Time: 1600 - 1715 (PD 1.5 hrs.)
Cost: No charge
Registration is essential due to maximum attendees
Venue: Nelson Tasman Hospice, 331 Suffolk Road, Stoke, Nelson Limited attendees:
For further information contact the Nelson Tasman Hospice Education Team:
E: Education Administrator: education@nelsonhospice.org.nz
Phone: (03) 546 3950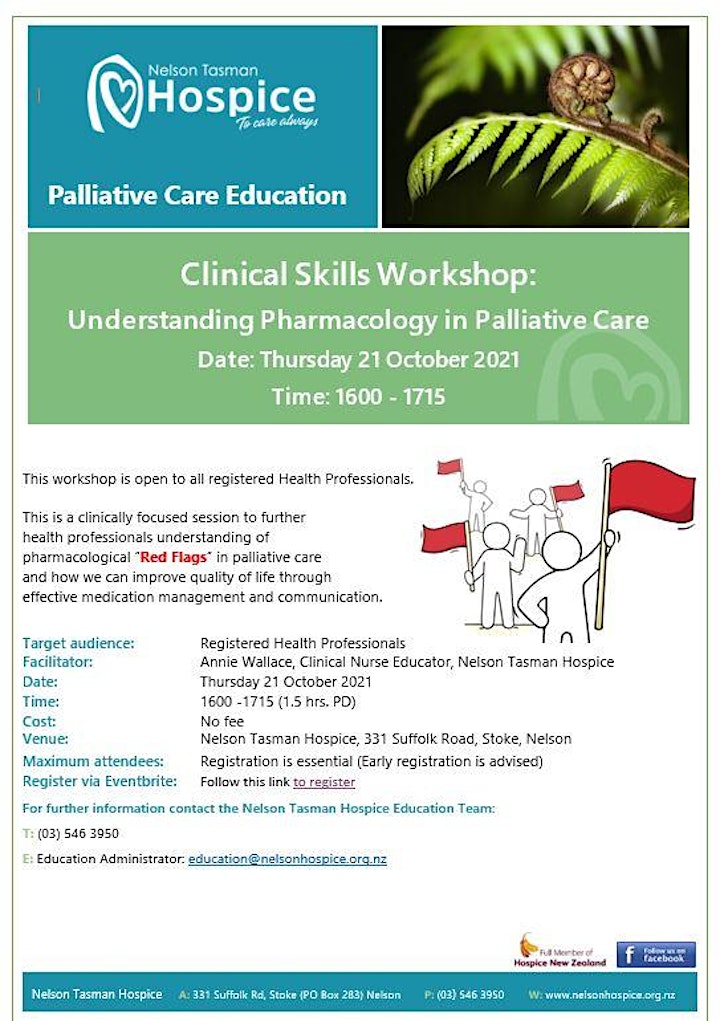 Organiser of Clinical Skills Workshop: Understanding pharmacology in Palliative Care