Community Research Webinar 3 - Resilient Leadership Amidist Complexity

Tuesday, March 17, 2015 from 11:00 AM to 12:30 PM (NZDT)
Event Details
What are the factors that support the emergence of leadership in communities?  Margy-Jean Malcolm presents a workshop on resilient leadership, exploring how learning, reflection and sense-making can contribute to leadership.
This is a 70-minute web-based interactive seminar presented by Margy-Jean Malcolm, with opportunities for questions.
Anyone interested in leadership and complexity within the Tangata Whenua, Community and Voluntary Sector is welcome to participate.
This event is the third in Community Research's summer series it will be hosted via Google Hangouts. This will be a live, interactive event so don't forget to ask questions as we go! 

Where: At your computer
Price: No charge

How to join: Register via this eventbrite page, we'll be in touch two weeks before hand with more information about how to access the webinar on the day.
In the meantime, if you have any questions about IT requirements or potential accesibility issues, please check out the Google Hangouts FAQ here, or you can email Pollyanne communications@communityresearch.org.nz
About the presenter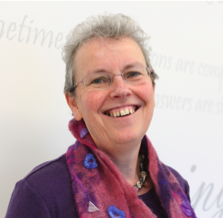 Margy-Jean Malcolm has worked on a number of evaluation research projects since the 1980s in community sector management, leadership, teaching and consultancy. Her research interest is in facilitating inquiry with groups as they initiate, review or rethink their interventions in their community or organisation and what factors support their ability to make a difference. You can find out more about Margy-Jean and her research, through her blog.
Organizer
The place to find webinars, research and resources for the Tangata Whenua, Community and Voluntary Sector.